Why am I getting a blank warning box when emailing from Acctivate?
When trying to email from Acctivate using MAPI email settings, some users may receive a blank warning box. This article tells you what it means and how to resolve it.
Note: In Acctivate version 11.0 sp8, rather than a blank message box, the message box includes the following message:
Acctivate is a 32 bit program and will not work with a 64 bit copy of Outlook for MAPI configuration.

Either install the 32 bit copy of Outlook, or setup as an SMTP connection in configuration manager.
Users may receive a blank Microsoft Outlook error when sending email from Acctivate (prior to version 11.0 sp8) as shown blow: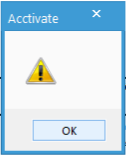 This error is caused by using a 64-bit version of Microsoft Outlook. This only affects the Microsoft Mail API (MAPI) email configuration. It does not affect the direct SMTP method, which bypasses Outlook.
Acctivate will not be able to send email using MAPI with the Outlook 64-bit as Acctivate is a 32-bit application. There are two options to resolve this issue to send emails:
Uninstall the 64-bit version of Microsoft Office. Then, re-install the (default) 32-bit version of Microsoft Office.
Switch to using SMTP configurations for sending email. If you need assistance with this, please refer to the SMTP section of our email configuration article.
More Information
http://office.microsoft.com/en-us/outlook-help/choose-the-32-bit-or-64-bit-version-of-office-HA010369476.aspx