Acctivate Database Backup Prompt
The backup prompt "No recent backup of y our Acctivate data has been made" is caused by not creating SQL specific backups.
In newer versions of Acctivate, there is a prompt upon exiting the application to create a backup if a SQL backup has not been run in the last 7 days. This prompt will show for all users until the backup is created.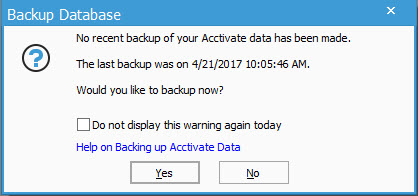 If you have a backup process in place on your server and you are still getting this prompt in Acctivate, that means you are not performing a SQL specific backup. You can add a task to your backup process to create this SQL backup. Follow this help article if you are looking for a way to set up an automatic backup for Acctivate. Creating a SQL backup not only backs up your Acctivate database but also truncates the SQL log and performs a few other functions. That is why it is suggested to add this type of backup to your routine.