The Acctivate Database Maintenance program contains many useful features for managing your database like back ups, info, and verifying.
The Acctivate Database Maintenance utility is designed to manage the Acctivate company list, connection to the database server, and enable users to create a new backup or restore an existing backup file.
Database Maintenance is located on the Windows Start menu, in the Acctivate folder. You can open Database Maintenance by selecting Start > All Programs > Acctivate > Database Maintenance.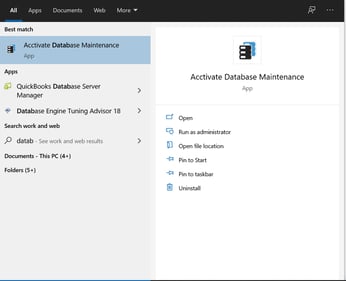 The Database Maintenance utility contains four main functions:
Backup / Restore
This can be accessed by selecting Database > Backup/Restore. If the "Backup" option is selected, users can create a snapshot of the SQL Server database in a folder on your server. If the "Restore" options is selected, users can overwrite their current Acctivate company data with the data stored in a previously created backup (.bkf) file.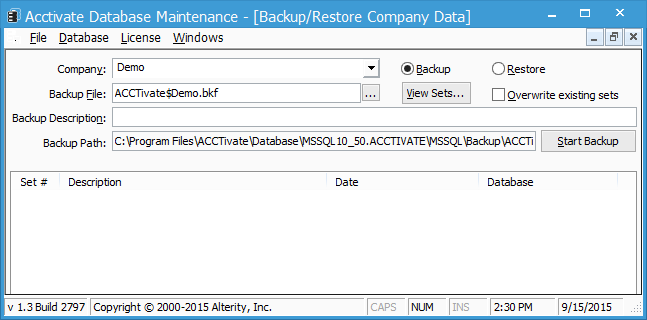 Database Verify
Selecting Database > Database Verify allows users to check and repair the structure of the database. This function runs automatically after upgrading to a new version of Acctivate. It is usually not necessary to run this feature.


Database Info
Selecting Database > Database Info will display a list of all current Acctivate companies, along with the corresponding QuickBooks company file (QBW).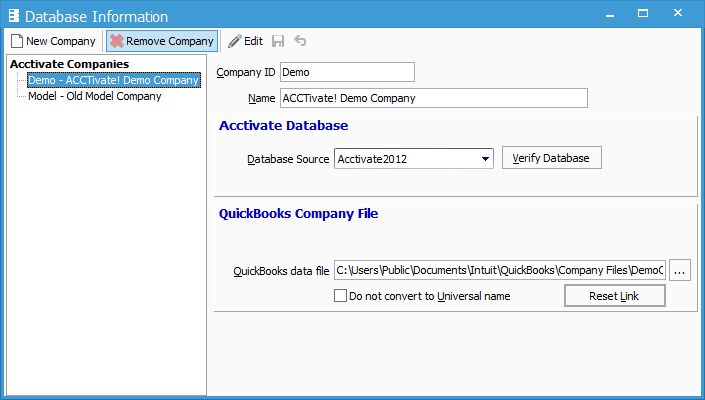 Database Sources
Selecting Database > Database Sources displays a list of Microsoft SQL Server database servers available to Acctivate. Most companies have one SQL database server that hosts multiple company databases.