Resolving "Acctivate is already running."
Close Acctivate or its login screen. If neither show on your computer, use Task Manager in Windows to close the program.
If you receive the following message: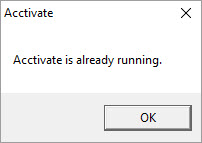 This means that Acctivate has already started and may be running in the background. Most commonly users may have double click to open Acctivate while the logon screen is behind an existing window. The log on window does not show in taskbar. Click OK and minimize your windows until get to the desktop. If you do not see the Acctivate logon screen you may also press Ctrl+Alt+Del and end task if you see Acctivate in your task list. Then attempt to launch Acctivate again.
If you still are given an error, try disabling skins to fix the issue:
Please Note: You must have window admin permissions to disable skins.
First, right click on the icon shortcut that you use to access Acctivate and click "Properties"
Step two will vary depending on if you are on the server, or a workstation.

For the server add "/noskin t" (without quotes) after the program path (which should be in quotes!)


For a workstation, add in "/noskin t" (without the quotes) following the server path.
If you continue to receive this message and are unable to resolve with the above steps please contact our support team for additional assistance.