Resolving Microsoft Outlook prompt to send email.
The prompt is returned by Outlook. Choose the option "Never warn me about suspicious activity (not recommended)" to allow Acctivate access to send emails. Or, grant access for a period of time. If you are using Exchange check MAPI security settings.
When sending email from Acctivate using Microsoft Outlook, some users may receive a message stating: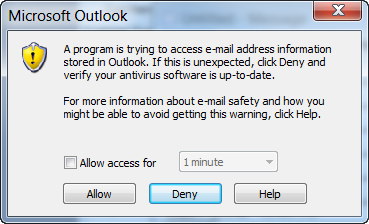 The prompt is actually returned by Outlook. You can follow the directions given by Microsoft for Configuring Outlook Security Features to Help Prevent Viruses. Choose the option called "Never warn me about suspicious activity (not recommended)" and that will allow Acctivate the access to send emails with out that message.
If your email is managed by a Microsoft Exchange administrator then they may have changed the default setting to not allow you to make that change in your Trust center settings. They will need to make the change on the Exchange server itself in that case.
There is also the case where changing the trust center option still doesn't resolve the issue. This is typically because you have an Exchange administrator that has not allowed certain MAPI security settings. They will need to go into the Exchange server and change those settings. Once your administrator has reviewed the default security settings, they will need to click on the "Programmatic Settings" tab and check "Automatically approve" for "When sending items via Simple MAPI:" and "When resolving names via Simple MAPI:".
Once these settings are saved, Outlook will no longer prompt you when you send e-mail through Acctivate.