You can add the Customer's Product ID from the Product IDs tab on the Customer Information window.
Any customer can have a customer product ID assigned to any product in the system, it just has to be added to the customer's record. Then, you can easily lookup that product by their ID, if for instance that customer orders that product from you using their ID and not your product ID.
Assigning a customer ID to a product:
Select Customer > Customer Information to open the Customer Information window.
Select the appropriate customer by using the Lookup button next to the Customer Name field or manually enter the name in that field and press the Tab key.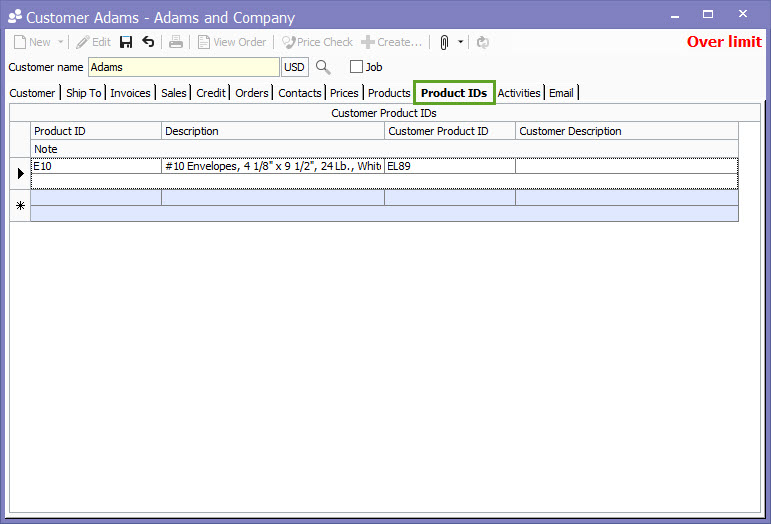 Click the Edit button.
Select the Product IDs tab.
Click inside the Product ID field.
Click the Lookup button that appears and from the Product Lookup window select the product ID that you wish to assign a customer ID.The Description will automatically populate based on the existing information in the system for that product.
In the Customer Product ID field enter the ID the customer wants to use for that product and enter their product description in the Customer Description field.
You can also enter a note (optional) in the Note field. Click the Lookup button that appears within this field to type inside a larger text box.
Using the Product Lookup window to find customer product IDs:
After you have assigned a customer's product ID, you can look it up in the system by that ID rather than by your Product ID.
Product Lookup windows are initiated from product Lookup buttons found on various windows (i.e. the Sales Order and Purchase Order windows > Details tab > inside the Product ID field and the Product Information window) throughout the system.
Click a product Lookup button to open the Find Product (Product Lookup) window.
In the first 'Find Product where' field select Customer Product ID from the drop-down menu.
If you are entering a Sales Order only the Product IDs specific to the customer selected on the sales order will display, but if you are in a window not customer specific (i.e the Product Information window) all products with customer product IDs will display.You can then use any of the other filtering options available in the Lookup window to find the product you need.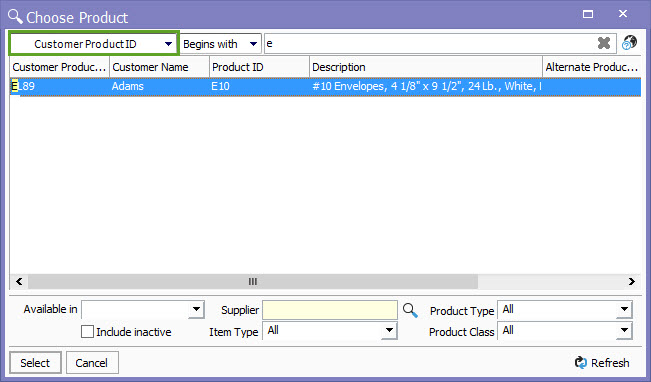 Note:When you select the customer product ID from the Lookup window, it will display in the main window (i.e. the Sales Order or Product Information window) by your product ID, not the customer's product ID.