Open the web store sync and change the Sync Frequency from "once" to any of the other options. After starting the sync, leave the window open and Acctivate will continue to sync based on that time interval.
To configure the automatic sync, click Web Stores > Web Store Sync from the top bar in Acctivate as seen below.

This will populate the Web Store Sync window where you will notice a new "Sync frequency" drop down. Simply click the drop down and select how often you'd like the sync to run then click Sync Now to start the initial sync. After that, the sync will run automatically after the defined amount of time.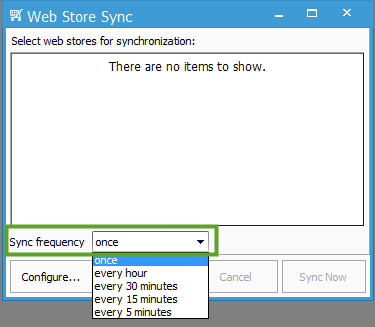 Considerations:
Once the initial sync has started, the Web Store Sync window should not be closed. This window should be minimized in Acctivate for the automatic sync to continue.
If a sync is still running and the next sync is scheduled to begin, the automatic sync will be skipped and will continue after the initial sync has completed. Example, if the sync frequency is set to 5 minutes, but the initial sync takes 6 minutes, the automatic sync will be skipped and will begin 4 minutes after the initial sync has started.
The Web Store sync can only be run by 1 user at a time. If the Web Store Sync is running and another user attempts to initiate a sync, the user will get a warning and will be unable to initialize a sync from the second workstation.
The defined time set for automatic syncs should reflect how much data is synced to/from the web store. For example, a company that only gets 3-4 order per day from the web store and does not export inventory information would take much less time than a company that takes 100 orders from the web store per day and does export inventory information. We recommend setting the automatic sync to 1 hour, as a default.