Resolving a "Backup Failed..." Sector Size Error.
"Backup failed…" sector size error may be received when restoring from a backup file.
"Backup failed…" sector size error when restoring a backup file in Database Maintenance
When restoring data from a backup file Acctivate's Database Maintenance tool, the following error may be returned: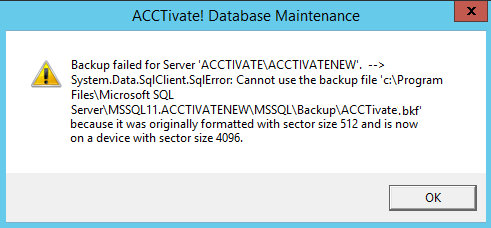 This is a fairly uncommon error resulting from a difference in the database format of the backup file and the format of the live database. To resolve this, rename the original backup file and then run a new backup. Microsoft has additional information about this issue and how to resolve it through Windows updates on their knowledge base.