Steps to change the value of an item in Acctivate after it has already been received.
When you have a product in stock, in which the value is incorrect you can perform a balance adjustment transaction to update the value.
Select Inventory > Balance Adjustment to open the Inventory Balance Adjustment window.
Click the New button. A new transaction will automatically be created in the session.
Enter all necessary information into the header fields. Make sure that from the Warehouse field drop-down list (in the header), you select the appropriate warehouse that you are performing the transaction for.
In the data grid, click inside the Product ID field. Enter the Product ID or click the Lookup button that appears (to select the product from the Find Product window).
Remain in the same data grid line and in the Unit Cost field, correct the current cost.
(Optional) If you also need to adjust the quantity on hand, enter the new quantity in the Quantity field. This is usually performed in the Inventory Adjustment window (Inventory > Adjustment), but if you need to adjust both the quantity and the value of the product in the same transaction you can take care of both in this window.
Repeat steps 6-8 for each product (enter each product on its own data grid line), in which you want to modify the value. If you want to enter a new transaction for other products you can repeat steps 3-8.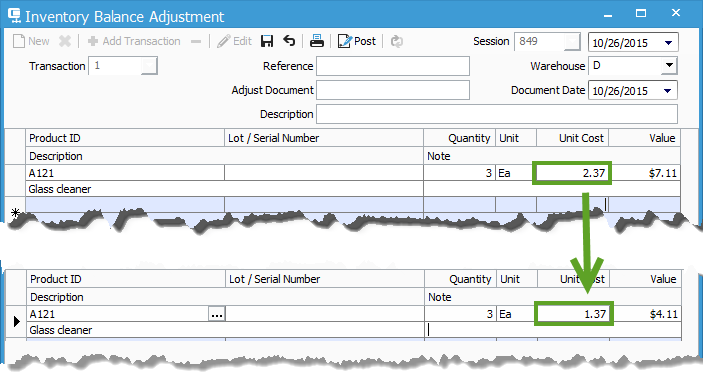 7. When you are done, review the products on the screen and save the transaction. Your inventory in the database has not been posted yet.
8. To post your inventory transaction, click the Post button. A pop-up window will appear asking if you want to post your inventory transaction.
9. Click Yes to post (update) the inventory. Click No to stop the posting process.
10. The Inventory Balance Adjustments-Transactions Report window will open when you have successfully posted your inventory transaction.
This report can also be accessed later, through Inventory > Inventory Reports > Transactions > Balance Adjustments.
11. Select the appropriate button, to print or preview the report for the products you just modified.