These options can be found by going to Configuration Management > Mobile > Order Picking
Mobile Order Picking options explained. These options can be found by going to Configuration Management > Mobile > Order Picking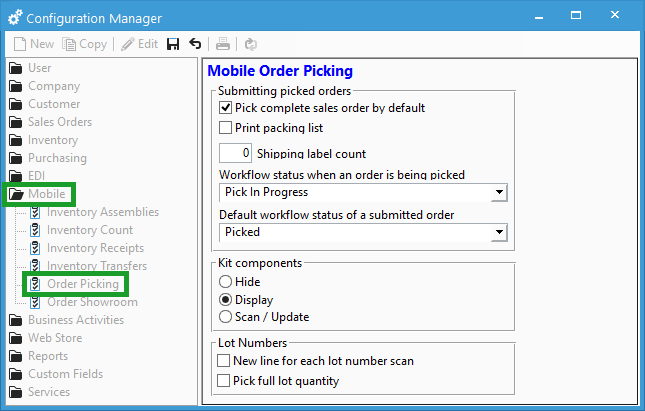 Submitting picked orders
Pick complete sales order by default
If checked the full ordered quantity is picked from a single lot number, eliminating the need to manually enter the quantity or scan the lot number to count up to the quantity ordered.
Print Packing List
If checked a packing list is printed when the order is submitted from the mobile device
Shipping label count
Sets the default number of labels to be printed
Workflow status when an order is being picked
Allows customers to choose the default order workflow status during picking (including custom workflows)
Default workflow status of a submitted order
Allows customers to choose the default order workflow status for a submitted order
Kit Components
Hide
Hide kit components on handheld
Display
Show kit components on handheld
Scan / Update
Scan components and update the order
Lot Numbers
New line for each lot number to scan
This option disables combining lines with same product id or lot/serial # (supports scanning same lot number from multiple locations)
Pick full lot quantity
This option will default the quantity for a selected lot number to the lot's on-hand quantity or the quantity still remaining to be picked, whichever is lower.
For more information about Mobile order picking options, check out our docs page.
If you're looking for information on when orders show as available to be picked on your mobile device please see What conditions must be met to begin picking an order?