Acctivate provides many options for composing and sending emails such as SMTP and OAuth connections.
Acctivate provides many options for composing and sending email. Email messages can be sent from many documents, such as Sales Orders, Invoices and Purchase Orders. The document will be automatically attached as a PDF and the message can contain data fields from the document, such as the total amount and reference fields. There are a few one-time configuration settings that will need to be reviewed for a successful implementation.
Getting Started
First, you need to decide how email messages will be sent from within Acctivate. There are three options: Microsoft 365, Simple Mail Transport Protocol (SMTP) and Gmail. These options are located in the Company Information section of Configuration Management. To access them, go to File > Configuration Management > Company > Company Info.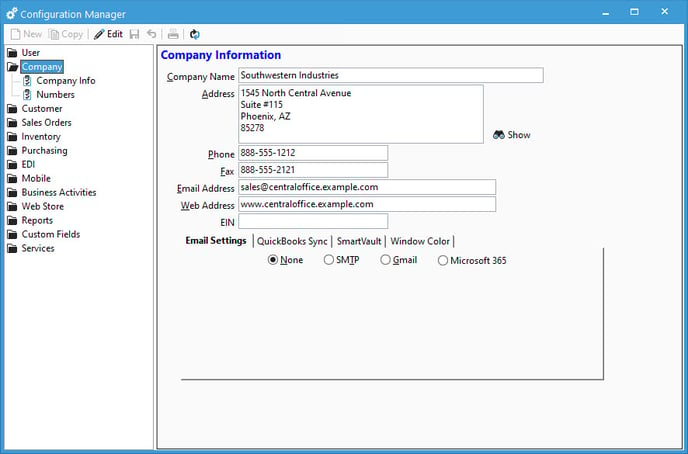 With Simple Mail Transfer Protocol (SMTP), email sent from Acctivate will go directly to your email server, bypassing the need for an email client to be installed on your workstation. This requires configuration of your Outgoing mail server in the Company Information section of Configuration Management. This is typically the IP address for your email server (e.g., Exchange). Additionally, if you have a specific port for your mail server you can add: 'port number' to the end of the outgoing mail server address.
SMTP is a more complex setting and for companies using Office 365 or Gmail, we recommend the direct connection. All you have to do is select Gmail or Microsoft 365 and click the "Connect" button and you'll be directed to a secure sign in page for Gmail or Microsoft 365. Once you sign in, your Acctivate user account will be connected to your email account.
You can read more about the differences between Microsoft 365, SMTP and Gmail in our related article, Compare and Contrast Microsoft 365, SMTP and Gmail Email Settings.
Individual User Configuration
You'll also want to configure the return Email Address and Signature for each user that will be sending email in Acctivate. You can configure these fields under the User Information section of Configuration Management. If you're using the Service Billing add-on module, an additional Msg Address can be configured. This is typically the email address associated with the user's mobile phone. This email address will be used when a Business Activity is assigned to a service rep or the status changes. You should only configure this email address if the user would like to receive these messages.
Acctivate also allows for individual users to have different email settings than the company. Choosing the Personal option in the Email Settings section of the User Information Screen will allow you to configure different settings for each user.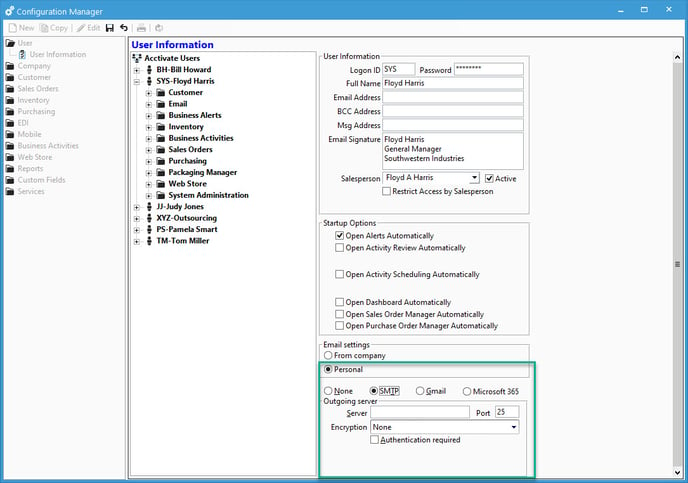 Message Templates
Acctivate includes a feature to pre-define Message Templates that can be used for common messages, such as a Sales Order confirmation, Purchase Order request or Sales Invoice. Data fields, such as the Order Number, can be inserted anywhere in the subject line or message. Click the Template… button on the email message window and select Manage message templates to view the Message Templates list. Be sure to read our Message Templates Tech Tip to view step-by-step instructions.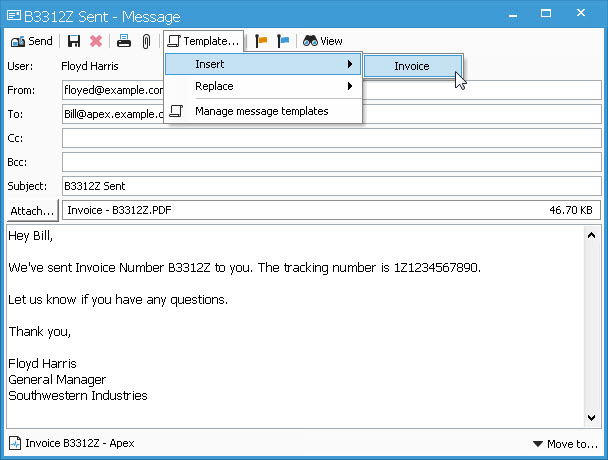 Drag-and-Drop from Outlook
Sending email from within Acctivate is convenient, but we realize that Acctivate cannot be used for all email messages. This is especially true of recording email messages received from customers and vendors that should be associated with a record in Acctivate.
Acctivate provides the ability to "drag and drop" email messages from Outlook. First, you'll need to open the record that you want the email message to be associated with. Select the Email tab and click Edit on the toolbar. Select the email message(s) in Outlook and drag-and-drop them into the blank section below the Email tab in Acctivate. You may need to first hover over the Acctivate icon in the Windows task bar to display the Acctivate window while you're dragging the email message(s).


For emailing a report: Email a Crystal Report as a PDF
In addition to sending emails directly from Acctivate documents, you can also email any Crystal Report from Acctivate in the Adobe Acrobat (PDF) format.
See Emailing Order forms for instructions on emailing orders, invoices, etc...
For more information about setting up email in Acctivate, check out our docs page.