This article shows you how to create a new product within Acctivate
When creating a new product in Acctivate, you'll notice there are highlighted fields after pressing the New button on the product window. These are the required fields for a new product. The user will need to specify each of the required fields listed below (linked fields are selected from a list of preset values):
Product ID
Description
Item Type
Product Type
Product Class
Control Type
Cost Method
Stocking Unit
Warehouse
There are two ways to create a new product in your Acctivate database:
Import a list of new items from a spreadsheet
Create a new item manually on the Product window
When using the first option, the spreadsheet will need to include all of the required information for a new product in a separate column.

Other times, users choose to create items manually. When doing so, they will need to utilize the following steps:
Go to Inventory > Product Information or click the Product button on the icon bar
Click the New button on the Product window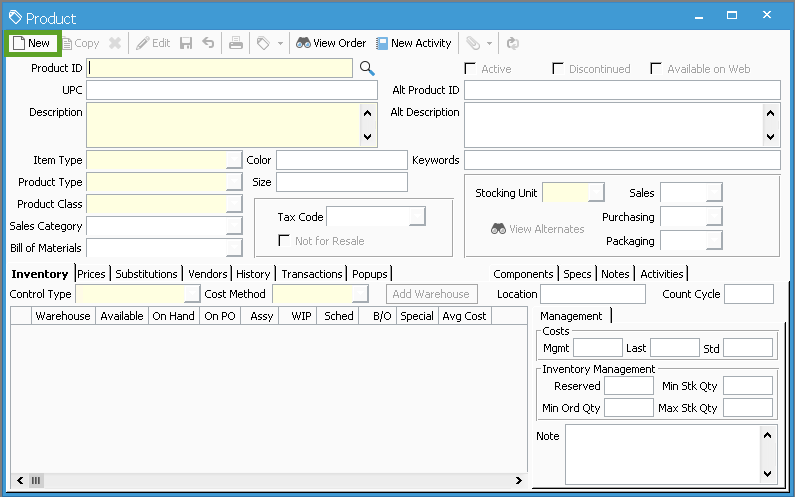 Type the Product ID of the new item
Add the Description
Select the Item Type
Choose a Product Type
Choose a Product Class
Based on your Inventory Options in Configuration Manager, the following may fill in automatically, but can be overridden to meet your needs:
Stocking Unit
Control Type
Cost Method
Tax Code
Click Add Warehouse to specify which warehouse(s) should be assigned to this product
Feel free to fill in any of the other fields available that pertain to your needs, but aren't required
Click Save to add the product to your database. You may need to click Refresh on the product look up window to see the new item, if you're searching for it immediately after saving.