How Do I Create a "Request for Quote" From a Purchase Order?
This help article explains how to create a RFQ from a PO.
Many Acctivate users don't realize some of the powerful features that are built into the system. Among these is the ability to create a request for quote that is really just a purchase order with a new status.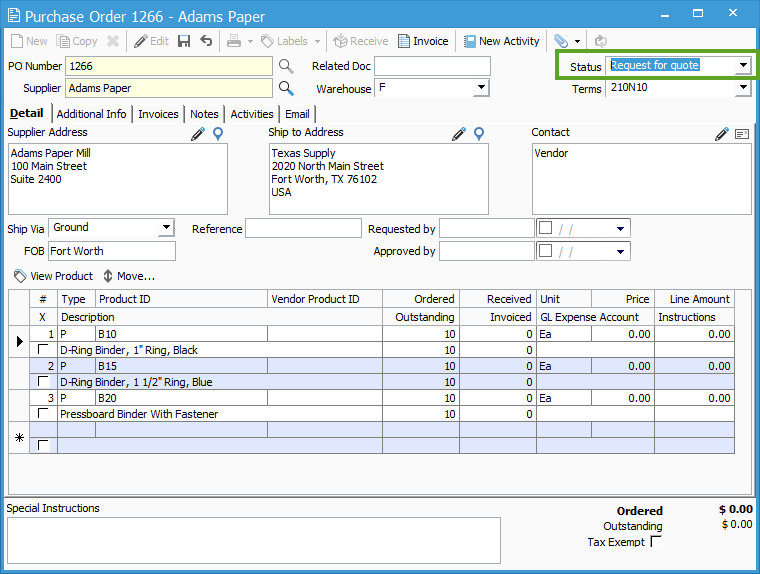 The benefit of this quick and easy status change is clear. There is no need to create two different POs - one for the RFQ and one for the full PO when you accept or reject the returned quote. Just one click turns a RFQ into a true PO or cancels it.
However, there is more to it than just that. Acctivate gives you the ability to print different reports and forms for each type of PO; so a RFQ will print your RFQ form and a PO with the status of "issued" will print your standard PO form.
How do I use RFQs in Acctivate?
First, make certain that Acctivate is configured for RFQs.Open File > Configuration Manager > Purchasing > Purchasing Options and change the order status to Request for quote, so it will be an option. Save this change if one is made.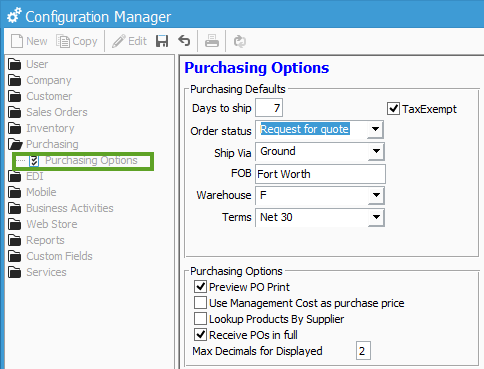 2. Now, when you create a new PO in the Purchase Order window, you can set the status to "Request for quote".While it is still a PO, it has the special status of being a RFQ. When you click the purchase order print button, it will print whatever form is designated for the RFQ, which is not necessarily your standard PO form.
3.When the status of the RFQ needs to be changed (you accepted or rejected the quote from your vendor), simply edit the RFQ and change the status to "issued" or "cancelled".