How do I set up Customer Jobs in Acctivate?
Learn how to create customer jobs in Acctivate and sync them to QuickBooks.
Acctivate synchronizes Customer Jobs from QuickBooks. The Customer Ship-To capabilities in Acctivate satisfy most requirements for wholesale / distribution companies previously using Customer Jobs in QuickBooks.
Acctivate does support most aspects of the Customer Job functionality in Acctivate. You can create a new job in either Acctivate or QuickBooks, reference it on Sales Quotes, Orders and Invoices. You can also use the full features of the Customer Information window for each job.
Customer Jobs are similar to a regular Customer in Acctivate. Acctivate Customer Jobs include their own attributes such as Customer Type, Bill-To and Ship-To addresses, Contacts, etc.
You can Create a New Customer Job by clicking New Job from the New button or press Ctrl+J for a quick shortcut.



You can also View the List of Jobs from the Jobs tab on the Customer Information window. You can filter the list to include Active, Inactive or All Jobs using the drop-down menu at the bottom of the Jobs tab.


The Customer Lookup window includes options to search for Customers, Jobs or Both. Use the drop-down menu to filter the list. The default Customer Lookup search field is set in Customer Options section of Configuration Management.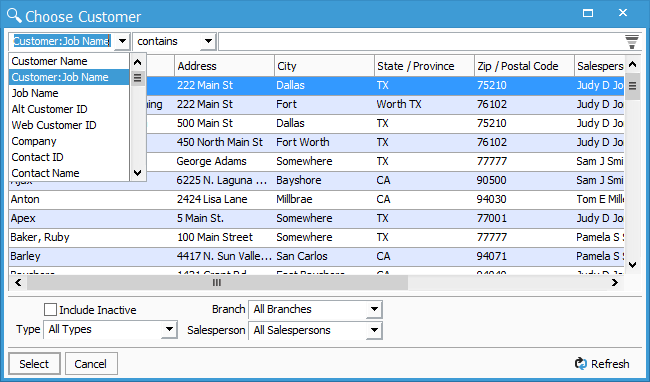 NOTE: The Invoices List and Balance for the Customer ("Parent of Job") does not include the transactions from jobs. The Customer balance in QuickBooks will include the transactions and balances from all Jobs.