Creating Inventory Transfers from Receipt or PO transaction.
Acctivate has the ability to Export Grids to Excel allowing users to quickly create an import spreadsheet to Transfer Inventory Between Warehouses. In order to create an import spreadsheet from the PO.
First you must open the PO that you want to export the product list to Excel.
Right Click anywhere in the detail grid and select "Send to Excel".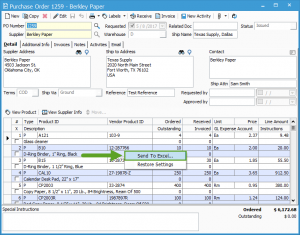 Excel will typically open in the background, this is the Spreadsheet that will be used to import the inventory transfer. You should select File > Save As to save this document in a location that will make it easy to find.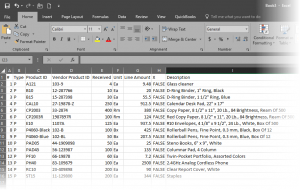 Now you are ready to Import, follow these steps to Import Inventory Transfer Sessions from a File.
To create an Inventory Transfer import from a Receipt, you should export to excel before posting an un-posted inventory receipt transaction:
First, you must find the inventory receipt session you will need to transfer. Select the Inventory Menu > Inventory Receipts.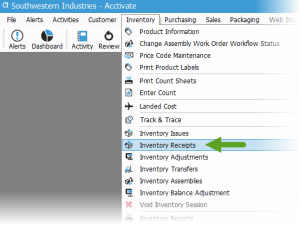 When the Inventory Receipt window opens select the Session drop-down and select the Session number you want to post. (Note: Only un-posted receipt sessions will appear in the drop-down list. See this help article to Find all Inventory Receipts by Purchase Order Number.)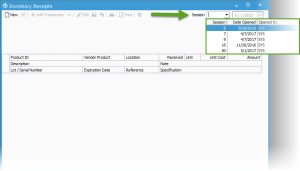 Once you find the receipt session that you want to export to excel right click in the grid and select Send to Excel. Save the file and follow these steps to Import Inventory Transfer Sessions from a File.