Acctivate allows you to enable Customer Credit Restrictions, maintain Customer Credit Information, set Customer Credit Holds, Override Credit Holds, mark Invoices In Dispute, Track Collection Efforts, and set User Permissions.
Efficient credit and collection management is critical for optimizing customer relationships, minimizing risk and maximizing cash flow. Acctivate has the tools to enable businesses to stay up-to-date on any customer credit issues and take action.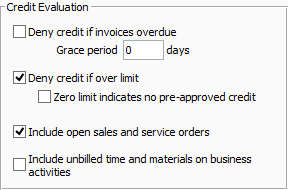 Credit Restrictions
Starting off, you can configure settings that will help you control credit delinquent customers. Acctivate automatically places a customer on credit hold or on over the limit status based on the credit restrictions you set in the Configuration Manager. In configuration you are able to:
Deny credit if invoices are overdue
Set a grace period for overdue invoices
Deny credit if the customer goes over their credit limit
Set the customer credit value at zero or unlimited
Learn more about setting credit restrictions >
Additionally in configuration, you have the option to include open sales and service orders in calculating a customer's credit status, as well as unbilled time and materials on business activities if you have the Service Billing add-on module.
Customers are placed on credit hold immediately if an open sales order, open service order or unbilled time and materials are putting them over their credit limit thus preventing an overcharge. These options can be selected in the Configuration Manager > Customer > Customer Options under the Credit Evaluation section.
Customer Credit Information
Credit information can be maintained for each customer in the Credit tab of the Customer Information window. In the Credit tab a variety of information can be defined for credit and collection management:
Default payment terms for the account, which can be overrode with permission before processing an order
Credit limit, which serves as a secondary determination of credit worthiness during order entry
Credit rating
Source of the credit rating, i.e., Equifax
Preferred payment method for the customer
Customer account number
Credit card information (requires appropriate permissions to view or maintain)
Date account was opened
Date of last credit review for the customer
Collection trend, which displays a series of up to the 12 most recently paid invoices in days
Past due balances
Unapplied credit and payment


Manual Credit Hold
At the customer level, a customer that is not credit worthy can be placed on credit hold manually by an authorized user. Just enable the "credit hold" checkbox in the Credit tab of the Customer Information window.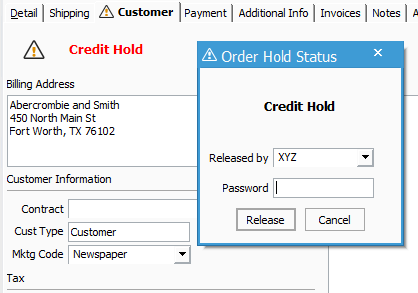 Override Orders for Customers with Credit Issues
When a customer is on credit hold or they're over their credit limit a warning will show on any sales order entered for that customer. The warning will appear as a button with "Credit Hold" or "Over Limit" in red on the right side of the Sales Order window in the Header tab. If one of these statuses needs to be overridden, a user with permission can simply click the button while in edit mode and override that status, so that the sales order can be processed.
Once a credit status is overrode, the red warning on the button changes to a green "Credit Approved" message. Under the credit status button, the user that approved the credit for the sales order is recorded along with the date they did it.
Overriding in this manner, only releases the credit held or over limit status for the selected sales order, the customer remains under the credit status. All other sales orders for this customer will remain on hold until the overall customer credit issue has been addressed, including subsequently entered sales orders. A red "Overdue", "Credit Hold" or "Over Limit" warning will show on the Customer Information window for the specific customer and details will appear in the Credit tab.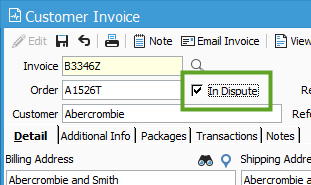 Disputed Invoices
Another feature in Acctivate is the ability to mark invoices as "in dispute". If a customer disputes a particular invoice and you agree to continue to process customer orders while the matter is investigated, the invoice can be marked as such via a checkbox. This will allow the invoice to be excluded from the customer's credit evaluation.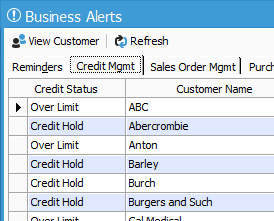 Track Collection Efforts with Business Alerts & Notes
Acctivate allows you to easily track and manage accounts receivable collection efforts with alerts and the ability to record notes. With this functionality you will know who is under credit hold, who has overdue invoices and the invoice details, which invoices are in dispute and all past and present records of collection efforts.
Learn how to use Business Alerts and notes to effectively track collections >
User Permissions
Acctivate allows permissions to be set for credit related functions, so that only the authorized personnel in your company have access to the features and information.
Permissions can be set for overriding a customer credit hold on a specific sales order. The appropriate personnel can be granted this permission and other users blocked in the Configuration Manager > User > User Information.
In the User Information configuration window:
Click the '+' next to an employee name to see the permission options.
Expand the Sales Orders folder and select Override Credit Hold
Click the edit button from the Configuration Manager toolbar.
On the right side of the window in the Permission section, choose Yes or No from the drop-down to grant or block access to the override credit hold ability.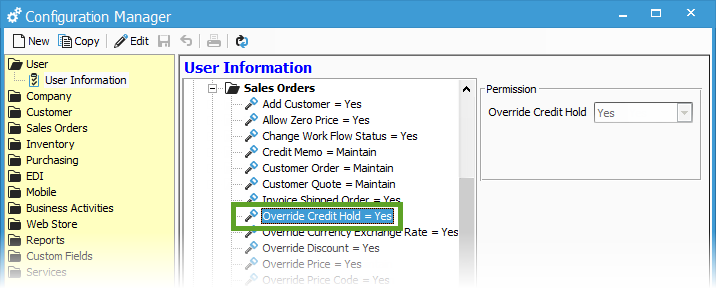 Permissions can also be set for maintaining credit information in the Customer Information window. In the User Information configuration option, expand a user name, expand the Customer Info folder and select Credit Information. This can be set to maintain, block or view only.
As you can see, Acctivate is not just inventory management, it also can help you handle credit issues, so that your business has greater control, better collections, fewer long overdue invoices and better customer relationships.