This article explains how to customize the Icon Bar in Acctivate.
Acctivate includes a customizable Icon Bar. The Icon Bar can be personalized by each user to suit their specific preferences, such as displaying only necessary buttons based on frequent tasks, moving or hiding the entire toolbar and changing the icon size. Feel free to also check out our Icon Bar video for visual instructions.
Customize the Icon Bar
Click the drop down arrow on the right.
Move your mouse pointer to the 'Add or Remove Buttons' menu.

3. Hover over the 'Icon Bar' to open a list of button that can be added to or removed from the Icon Bar.
4.Check or uncheck the buttons that you would like to add or remove. Icons will be placed in segments separated by lines on the Icon Bar. They are arranged according to the order they appear on the Menu Bar.
Hide/Show the Icon Bar
Choose 'Customize...' from the 'Add or Remove Buttons' menu.
Uncheck the 'Icon Bar' checkbox.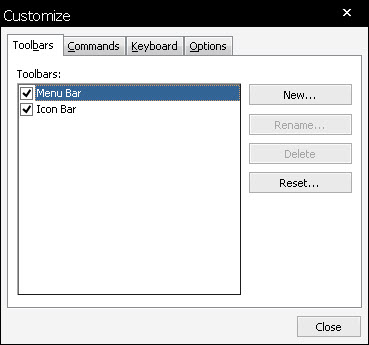 3. Click Close.
Set the icon bar to show again by right-clicking the menu bar and rechecking the icon bar checkbox.
Display Small Icons
Choose 'Customize...' from the 'Add or Remove Buttons' menu.
Click the 'Options' tab.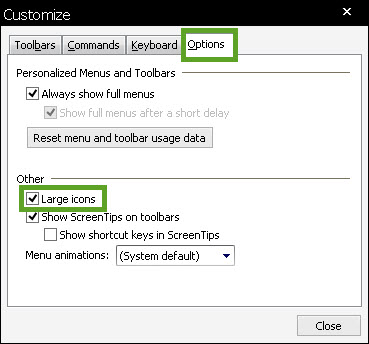 3. Uncheck the 'Large Icons' checkbox.
4.Close.
There are endless options for customizing your Acctivate icon bar. Give it a try... personalize it for how you work; put the Acctivate features you need instant access to right in front of you.