Right clicking on grids in Acctivate allow access the data grid features such as Print Grid, Send to Excel, and Restore Settings. You can also use filters to sort the data. On windows with a horizontal or vertical scroll bar, you can split the grid.
Data grid features offer time-saving benefits. Filter, sort, print, split and drag and drop data grids
Data grids exist throughout the system in various windows to organize data. But did you know that the data grids had extra features, besides just data organization?
Give these quick and simple features a try and you will see time-saving benefits by better organizing and quickly finding information.
Filter grids to speed up your information searches:
You don't have to scroll through tons of information to view what you need, use the new drop-down menus and Look for fields to see exactly what you want.
Look for fields filter as you type, for data grid information that cannot be filtered by the provided drop-down menus.
For example, in the Business Activity Review window you can filter by various criteria as shown below, such as who the activity is assigned to, the activity type, code and more.

Enhanced filtering is also available in the Customer Information window (on the Invoices, Orders and Products tabs) and the Business Alerts window.
Sort grid columns to see information in ascending or descending order:
With a simple click of a data grid column header, you can sort static information of some windows in either ascending or descending order.
You can even sort multiple columns simultaneously. Just sort one column and then hold down the Shift key while you click another column header (click again to sort in the opposite order), which will sort the information by subcategory.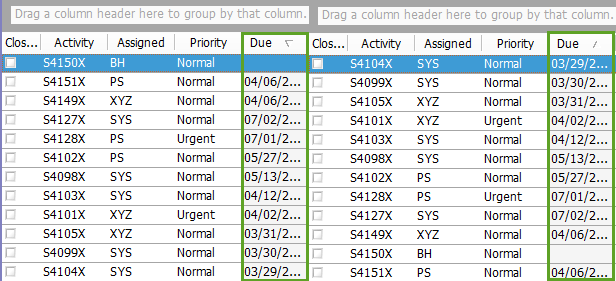 Drag and drop grid columns for better organization:

Do you need certain data grid columns to be more prominent than others or wish to view information in a certain logical order?
Well, just click a data grid column, drag it to a desired position in the data grid and drop it when two red arrows appear.
Print grids to get an instant hard copy of your data:
Some static data grids can be printed by simply right-clicking on the data grid and selecting the Print Grid option.
This is useful when you need a quick printout rather than a report. Try it out in the Business Alerts and Business Activity Review windows.
Split grids to view multiple sections of data simultaneously:

Some data grids allow the grid to be split, so you can view two or more sections of a large data set at once.
In order to do this a vertical scroll bar must be present on the grid.
Place your cursor on the gray bar above the vertical scroll bar until it turns into the cursor shown to the right.
Then click and drag the bar down to the desired location to make the "split".
The data grid will split into two as shown below. The gray bar can be clicked and dragged as many times as necessary to create multiple "splits".
To undo the split, click and drag the gray bars above each "split" to the top of the grid.



Send Grids to Excel:
Did you know most Grids can be sent to excel? This can be very useful particularly on the Product Lookup Grid to easily export out your Product list and Warehouse Quantities to Excel. Just simply right click a grid and click "Send to Excel..."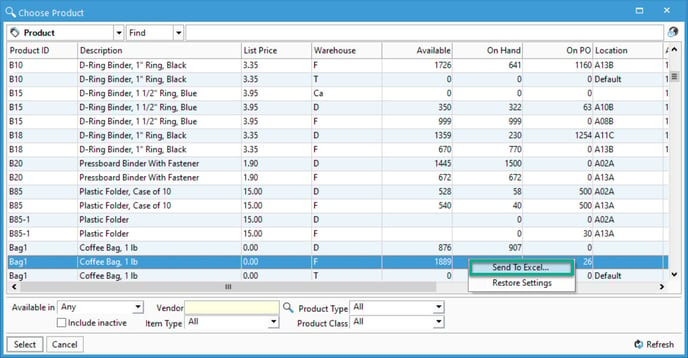 Restore Grid Default Settings:
If you accidentally messed up the way your Grid looks, or want to get the default look back, all grids offer a "Restore Settings" function to return the Grid to it's normal Acctivate look and feel. Just simply right click a grid and click "Restore Settings."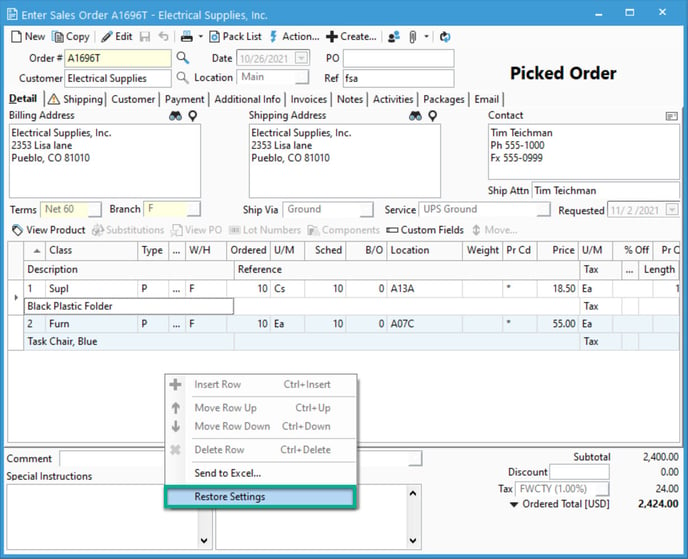 These features can ultimately save you time without any effort. All it takes is one or two clicks.