How do I drill down within Crystal Reports?
Information on drilling down on field within reports and dashboards to gain more detail within Acctivate.
Acctivate offers drill-down capabilities from Crystal Reports® windows for reports and the dashboard to related Acctivate windows. Simply double-click on a data field that represents a window in Acctivate, such as Product ID, Customer, Order Number, etc.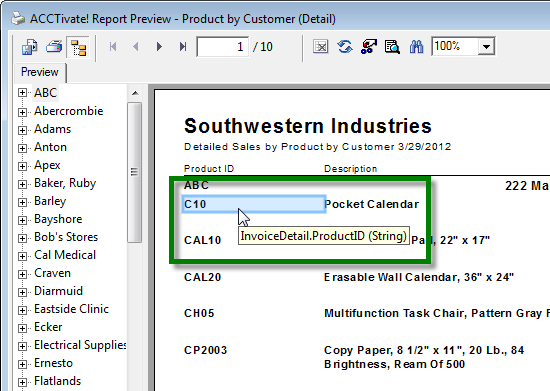 The above example shows the InvoiceDetail.ProductID field on the Product by Customer (Detail) report. Double-clicking on the Product ID will display the Product Information window for product C10.
NOTE: Only certain data fields are available for drill-down. Formula fields and Group Name fields are not supported. Keep this in mind when creating custom reports.
The following lists of data fields are supported:
CustomerID
CustID
FullName
OrderNumber
PONumber
Invoice Number
Issue ID
Activity ID
Shipment Number