How to use the Drop Ship Purchasing Wizard.
This article shows you how to perform a basic drop-ship using purchasing wizard.
The Purchasing Wizard (Drop Ship Wizard) add-on allows you to quickly and easily perform drop-shipments to send products directly from your vendor to your customer. Follow the procedure lists below to perform a basic drop-ship.
Start with a Sales Order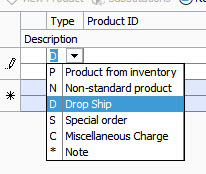 To drop ship a product directly to your customer, simply create a sales order just as you would with any regular sales order. However, there is one exception.
Add a new Sales Order
Select the Customer
Click on the Details tab
Click inside the Type field on the line you wish to drop-ship
Select D "drop-ship" - this is the "flag" that tells Acctivate to prepare this one product line to drop-ship. (see image to the right)
Select the product, order quantity, price and other fields as you would normally do for an order. Any Special Instructions will be copied over to the Purchase Order created.
The product will not be removed from your inventory. It will be setup for a drop-shipment directly from your vendor (you can choose which vendor to ship from in the next step).
For up to date instructions on how to use the wizard after sales orders have been entered, please check out our
training page
.