This article shows you how to perform a basic drop-ship using purchasing wizard.
The Purchasing Wizard (Drop Ship Wizard) add-on allows you to quickly and easily perform drop-shipments to send products directly from your vendor to your customer. Follow the procedure lists below to perform a basic drop-ship.
Start with a Sales Order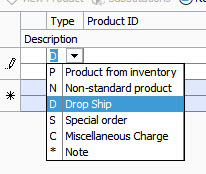 To drop ship a product directly to your customer, simply create a sales order just as you would with any regular sales order. However, there is one exception.
Add a new Sales Order
Select the Customer
Click on the Details tab
Click inside the Type field on the line you wish to drop-ship
Select D "drop-ship" - this is the "flag" that tells Acctivate to prepare this one product line to drop-ship. (see image to the right)
Select the product, order quantity, price and other fields as you would normally do for an order. Any Special Instructions will be copied over to the Purchase Order created.
The product will not be removed from your inventory. It will be setup for a drop-shipment directly from your vendor (you can choose which vendor to ship from in the next step).
Open the Drop-Ship Wizard to create a Purchase Order
Open the drop-ship wizard by clicking on Purchasing > Drop Ship Wizardfrom the top file menu.Note: All product lines from all new sales orders that are marked to be drop-shipped are shown on this wizard. If a purchase order has already been created for a product line, then it will not be shown here.
The Drop Ship Wizard will predict the preferred vendor, price and required date for each product line designated to be drop shipped.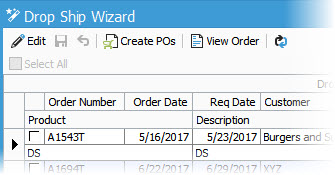 3. Click the Edit button to change relevant information for each product line.
4.Check the box in the upper left corner of each product line when you are ready to have a purchase order created for that product line. If you are not ready to issue a PO for this item, do not click the box.
5.Click Save when you are done making changes to this item, then click the Red Create Purchase Orders button.
6.At this point, purchase orders for each item exist in the system. You have to print them and get them to your vendors.
7.To print these Purchase Orders, click Purchasing > Print Issued Purchase Orders.
8. Each new purchase order is now ready to either print or preview (check the preview box to preview).
9.Once the purchase orders have been created, they are now ready to submit to your vendor.
Record your Vendors shipment / invoice paperwork & Complete your customers Sales Order
The last step in performing a drop shipment is to post the amount of product sent to your customer and to enter the invoice information from your vendor.
The amount of time between this step and the previous step may vary considerably (perhaps by weeks), depending on the speed of your vendor's invoice processing.
When you have either received shipment notice or invoice for payment from your vendor, it is now time to complete the drop shipment process.
Open the Purchase Invoice for this drop shipment. (You will likely receive documentation from your vendor before you hear anything from your customer, this is why it's appropriate to think about pulling the vendor's Purchase Invoice first).
Do this by clicking on Purchasing > Purchase Invoice.
Then find the purchase order for the item that was drop shipped.
Go back to the Purchase Invoice
Close the Sales Order, and focus again on the original Purchase Invoice. Now that the customer's order has been properly completed and invoiced, you are ready to complete the purchase invoice.
Click Edit and then the Detail tab to change product information on the purchase invoice.
Enter the amount of product shipped from your vendor on the green Approved cell.
On the bottom of the screen, enter the invoice number and invoice date from your vendor. Check that the price and other information is accurate. When you are done, click Save.
Finally, click the Create Purchase Invoice button. Acctivate will ask, "Should this invoice be marked as 'completed'?" Click Yes.