EDI Carrier Pro, Bill of Lading, and Tracking number options.
Where can I enter the Carrier Pro, Bill of Lading, or Tracking number information for my Shipments?
Some EDI Trading partners require a Carrier Pro number or Bill of Lading number to be included on 856/ASN transactions. Acctivate will include this information on the 856/ASN document on the Shipment Row Position 5 (Pro Number) and Shipment Row Position 6 (Bill of Lading).
This information can be entered in the Package Shipments window on the Carrier tab, in the Carrier Reference and Bill of Lading fields.
Pro number: A PRO number, or PRO tracking number, is used by carriers to organize and track the progress of a an entire shipment. Entered on the Carrier Reference field in Packaging Manager.
Bill of Lading number: The bill of lading (BOL) works as a receipt of freight services, a contract between a freight carrier and shipper and a document of title. The bill of lading is a legally binding document providing the driver and the carrier all the details needed to process the freight shipment and invoice it correctly. Entered on the Bill of Lading field in Packaging Manager.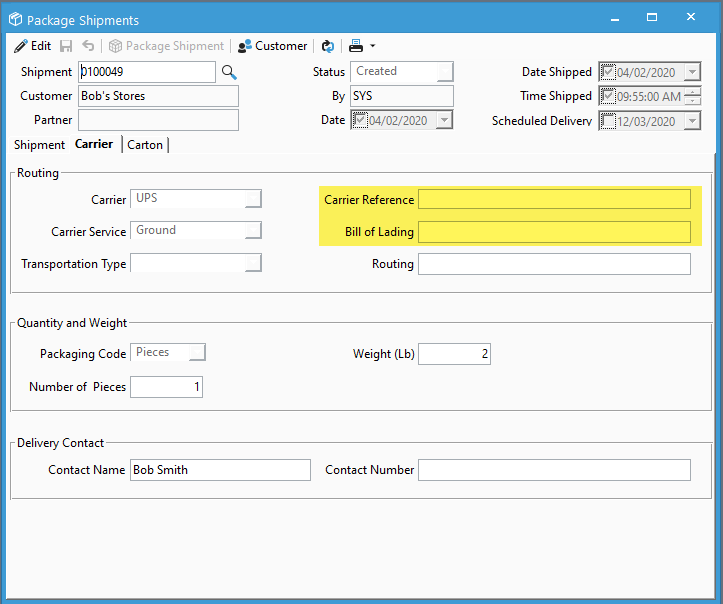 Tracking Number: A carrier's tracking number for each package unit.
If Acctivate is integrated with Shipping software, this tracking number field is usually automatically configured to receive the tracking number per package that was generated from the shipping software. The writeback from the shipping software to Acctivate will include the tracking number to the "Carrier Tracking ID" field.