Exclude Shipping Charges from Invoice Discount.
Exclude shipping charges from invoice discount
Acctivate offers an option to include or exclude shipping charges from being calculated in an invoice discount, when the discount is a percentage on the Invoice. By default, the option "Shipping charges are ineligible for invoice discount" is disabled. This means a 10% Invoice discount would calculate the discount based on the sum of the detail lines on the Invoice including any shipping charges.
You can enable the option so shipping charges are ineligible for an invoice discount by reviewing and checking the option in Configuration Manager -> Sales Orders -> Order Options.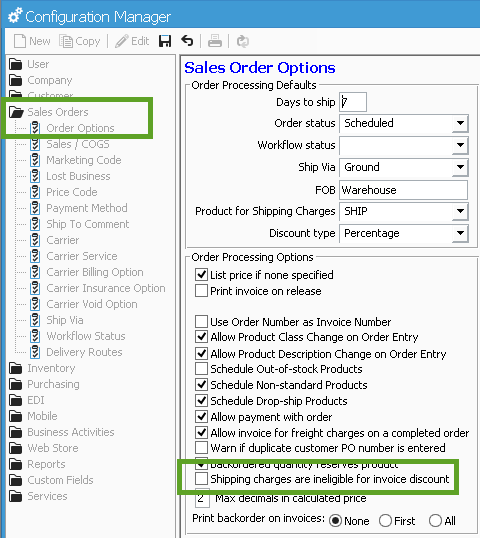 Enabling this option will only calculate an invoice discount on the Product lines, excluding shipping charges. Here is an example of an Invoice with the option enabled. The sum of lines on the Invoice is $60. A 10% discount is applied to the Invoice, which is calculated at $5 since the discount excludes shipping charges.