Exporting reports into another format.
This article explains how to export a report into another format such as PDF, RPT, CSV, etc.
In preview mode reports can be exported into any of the following formats:
Acrobat Format (PDF), Crystal Reports (RPT), Comma Separated Values (CSV), MS Excel 97-2003, MS Excel 97-2003 (Data only & with advanced options), MS Word, MS Word - Editable, Web page (HTML), Tab-delimited (TXT), and XML.
Acctivate provides various reports, which can be accessed from the desktop menu items or they automatically pop-up when specific procedures are performed, like posting inventory in an inventory transaction. Provided reports include purchasing, sales, business activity and customer reports.
Open the specific report (i.e. purchasing, sales order, business activity, or customer report) you want to export.
In the Report Selection Criteria window, use the Filter and Value columns to display specific information in the report.
Click the Preview button.
In preview mode, click the Export Report button.


5. In the Export Report window, you can select the File Location anywhere available on your PC.
6. Choose the file type in the Save as type drop down menu (i.e. a PDF, Excel document, etc.). Note: If you select Microsoft Excel 97-2003 (or any other MS Excel type) the report will be exported as an Excel spreadsheet, which is formatted as is in the preview window. If you select MS Excel 97-2003 (Data only) (or any data only option) then only the data will be exported in an unformatted form.
7.Click the Save button.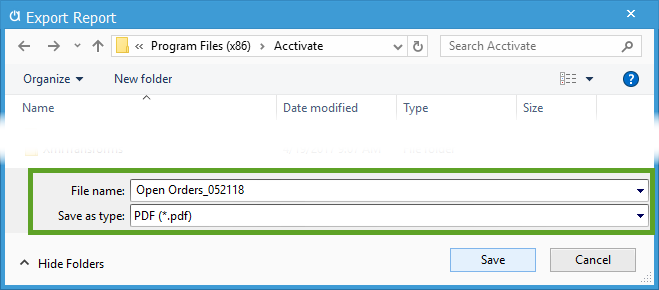 8. The report will be saved in the location chosen to be opened whenever you're ready to do so.