Filtering Searches in the lookup with "Begins With"
This article shows you how to filter search windows with the Begins with option.
Acctivate search windows use a Multi Field Search which looks for data in several different fields at once. The multi field search can also look for a character that is anywhere in the text for the values in those fields. For Acctivate companies that have very large lists (such as Products or Customers), this can cause the search to take longer to populate data because so many records are included in the results. For this reason a user can select the Begins With option so that the search is only looking for values which begin with whatever is entered in the search.
In the screenshot below, the search option is set to Find. This option uses standard multi field search functionality. Notice that searching for "r" populates products which begin with "r" but also shows products which contain an "r" somewhere in the Product ID.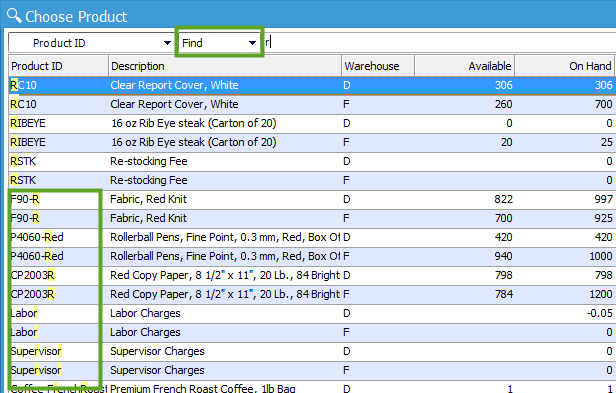 In this next screenshot, the search option is set from Find to Begins With. Now, the search for "r" is only populating Product IDs which begin with "r."

By reducing the number of records that the search logic has to sort through, the search should populate data much faster than using the Find option.