Acctivate has been designed to accommodate a configurable default status for purchase orders. This default status will be selected when a new purchase order is created.
Default Purchase Order Statuses
Entered
This is the first status that can be selected for the purchase order. It is designed to show that a purchase order has been created and entered into the system. The PO can then become a Request for Quote, Pending Approval or Issued PO.
Request for Quote
This is very helpful if your business uses RFQs on a regular basis. Setting this as the default will remove the ability to change the purchase order to Entered, but it can changed to Pending Approval or Issued.
Pending Approval
All new purchase orders must be approved before they can be issued to the vendor. The default Pending Approval status will remove Entered and Request for Quote from the status list and will only allow you to select Pending Approval and Issued for new POs
Issued
The most common default PO status. This allows you to quickly create and submit a new PO to your vendor. This default status removes the ability to track purchase orders through a formal RFQ and approval process. However, you can always fill in the Approved By field on the Purchase Order. Once the PO is issued, the product quantity is reflected as being "On PO" which affects the Suggested Inventory Reorder Quantity.
Adjust the default Purchase Order status
Open the Configuration Manager from the File menu
Click Purchasing Options in the Purchasing folder
Click Edit on the toolbar
Select one of the above Order Status codes from the drop-down in Purchasing Defaults
Click Save and close Configuration Manager
Create a new Purchase Order to verify the new default Status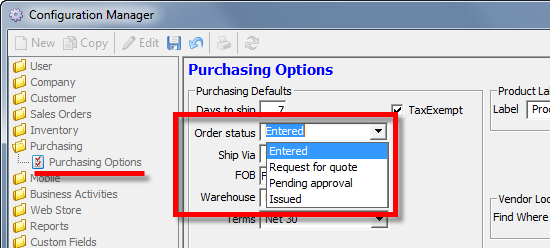 NOTE: A separate Crystal Report is included for each Purchase Order status. You may need to customize the Purchase Order form for the new status.