The Acctivate Customer window has many tabs and sections for updating your customer information.
You can open the Customer window in one of two methods:
Click the Customer Icon on the Icon Bar


From the menu bar, select Customer >Customer Information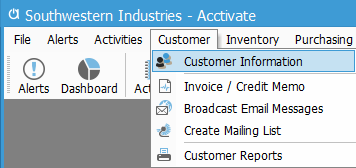 Once the Customer window is opened, users will see the following screen: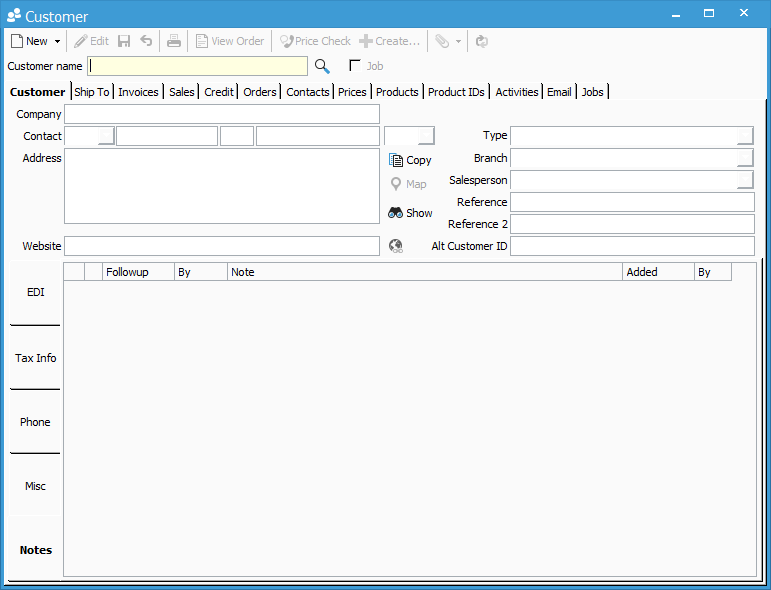 From here, users can either create a New Customer by clicking on the New button

or use the lookup button

to view an existing customer.
Customer Tab
The Customer window contains several tabs containing different information. By default the window will be open to the Customer Information on the Notes section.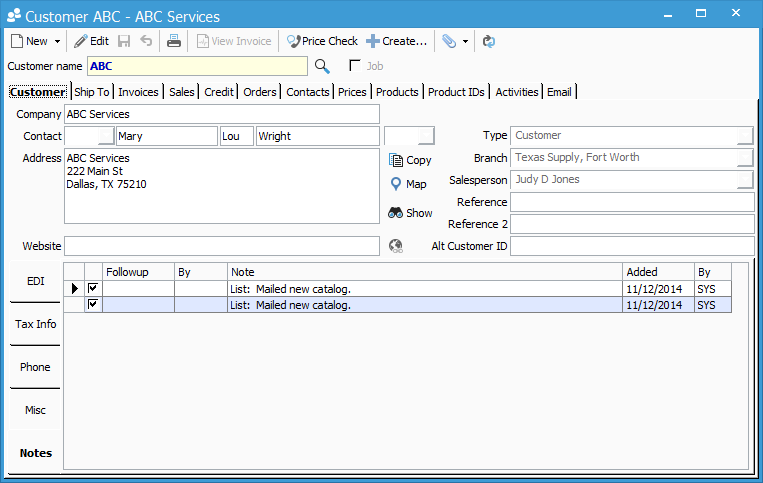 The Customer ID, Company name, address and website information for the customer is set on this screen.
The Currency drop-down will be available if you have multiple currencies enabled in QuickBooks. The currency cannot be changed once orders, invoices or payments have been processed for the customer.
Users can also assign a Customer Type (used to set price types), Branch, Salesperson andAlternate Customer ID here. The Reference and Reference 2 fields are fields that you may enter any data into for additional things you may keep your customers categorized by.
Additional Tabs
EDI – Available for EDI Manager users only. Select an EDI trading partner for the customer.
Tax Info –

Tax Code –Select whether sales for this customer are taxable or non-taxable.
Tax Exemption – Record the state tax code for the tax exemptions and documentation.
Phone – Set the contact information for the customer
Misc

Synchronize transactions as – When a Customer ID is stored in this field, the currently open customer will not synchronize to QuickBooks. Instead, all transactions (i.e. invoices, credits and payments) for the currently open customer will be linked to the 'as customer's' record and synchronized to QuickBooks as that customer. This is useful for users that have the Web Store module and want to record every new customer that comes from their eCommerce website in Acctivate, but not synchronize the new customer records to QuickBooks.
Invoice Text: This note will appear on invoices for the customer.
Popup Note: This can be a general note or a note that will pop-up (only if the Popup checkbox is checked) when any record related to the customer is opened.
Ship To Tab
This tab contains shipping related information about the customer. One Acctivate customer can have many "ship to" locations, which can be managed here. To set the default ship to location ID for new customers, follow the instructions listed here.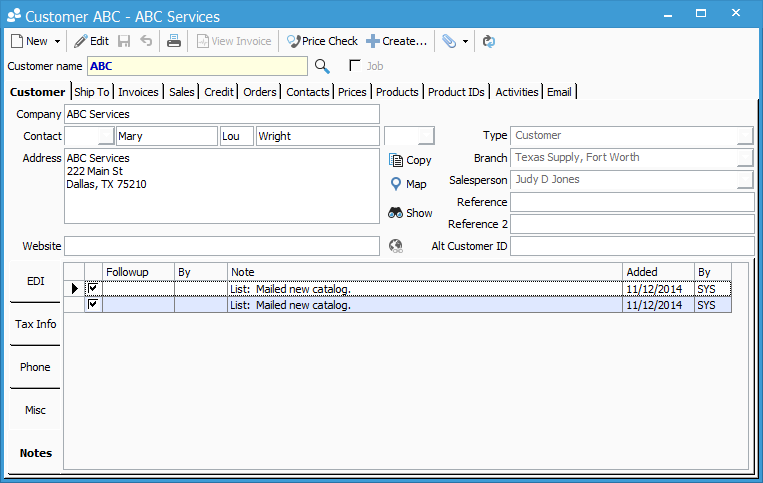 Click the "Add" button to create a new Ship To location, or click the "Edit" button to modify an existing location. There are also a few sub-tabs on this window:
EDI- if the EDI module has been purchased, users can specify whether or not this location is a Distribution Center, if it's services by a Distribution Center, or what warehouse should be assigned to the location.
Misc– Users may enter a Pop-up note related to a specific location here
Phone- Additional contact information for the ship to location can be entered here
Delivery Instructions (Del Inst)- Users may enter a comment, shipping instructions or special instructions for a specific location
Notes– Users may enter a date-sensitive note here, as well as create a Business Alert for that note by assigning a Followup date.
Invoices Tab
The Invoices tab provides invoice and payment history for each customer in Acctivate. This is the best place to review a customer's account balance details, as well as any unapplied payments or credits.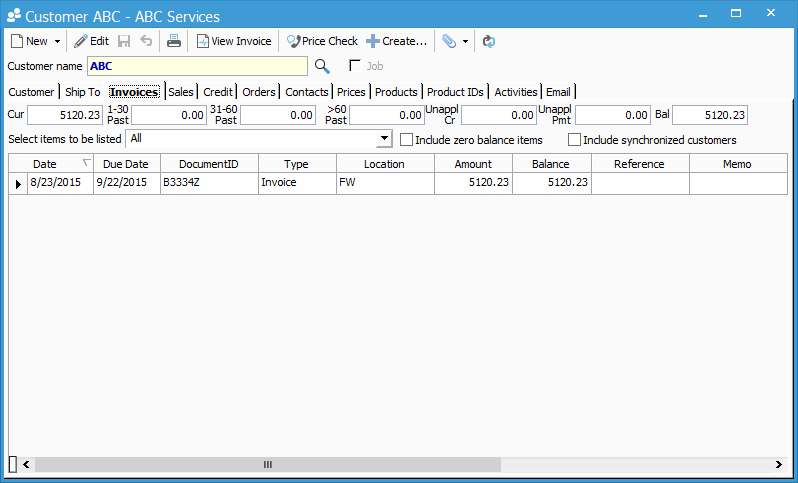 Users can filter the list of invoices on this tab in three different ways:
Select items to be listed– Select a transaction type from the drop down list to show only certain transactions
Include zero balance items– When checked will include transactions with zero balance
Include synchronized customers– When checked will include transactions from all related customers that are set to synchronize as the currently open customer.
Sales Tab
The Sales tab displays the sales activity for the customer. Sales figures are broken into months, and each month is further broken into categories to help show the major types of income you receive from the customer.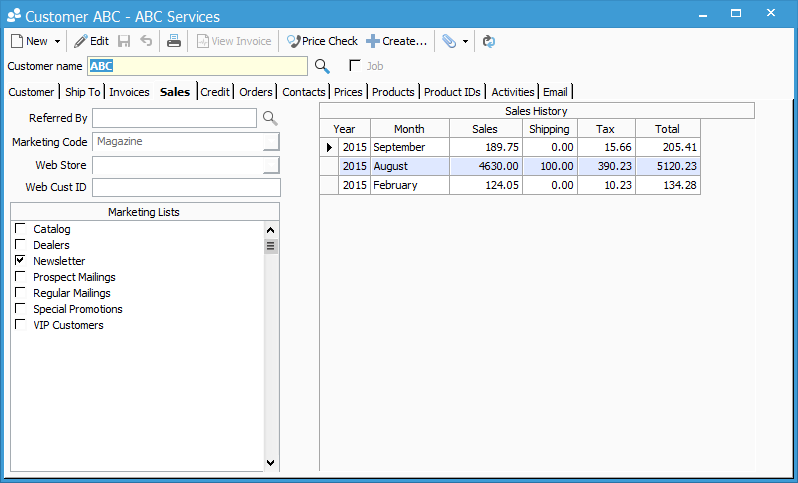 Other fields on this tab include:
Referred By- If a customer was referred to your business by an existing customer, they can be linked here
Marketing Code– This field is primarily used for reporting. Marketing Codes are maintained in Configuration Manager.
Web Store- Optional field that will list a web store name if the Web Store Module is enabled
Web Cust ID- Optional field that will display the customer's webstore-specific Customer ID
Marketing Lists- Primarily used for reporting, customers can be added to a Marketing List here. Marketing Lists are maintained in Configuration Manager.
Credit Tab
The Credit tab presents all customer credit management information. Users can view a customer's current balance, past due balances, and unapplied credits or payments here.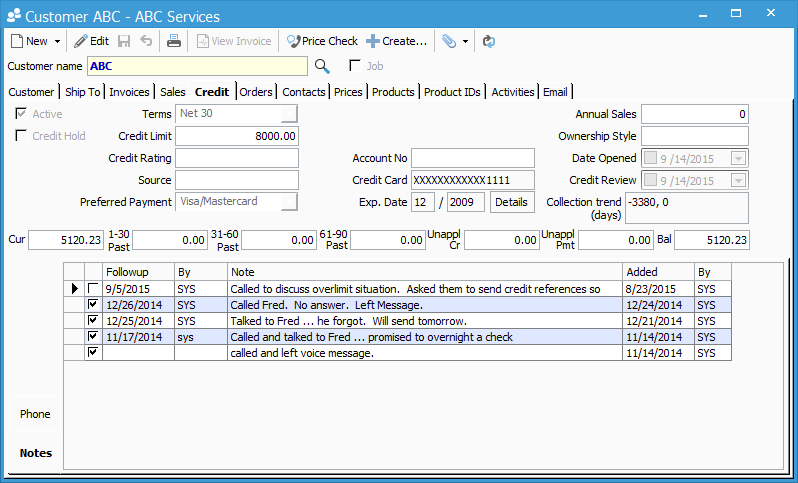 Useful functions on this tab include:
Details Button: Opens the Credit Card Information pop-up window, so that a user with proper permissions can enter the credit card information for the customer. The credit card information and expiration date entered in the pop-up window will display in the Credit Card and Exp. Date fields in the Credit tab.
Active: Used to note active and inactive customers.
Credit Hold: This checkbox for QuickBooks is used to control sales to accounts that are not credit worthy. Accounts in this category require special approval before an order can be processed.
Orders Tab
This tab lists orders, quotes and credit memos for the selected customer, which you can filter by type and due date to view the information you need. You can also access details of an order, quote or credit memo by double-clicking its data grid line.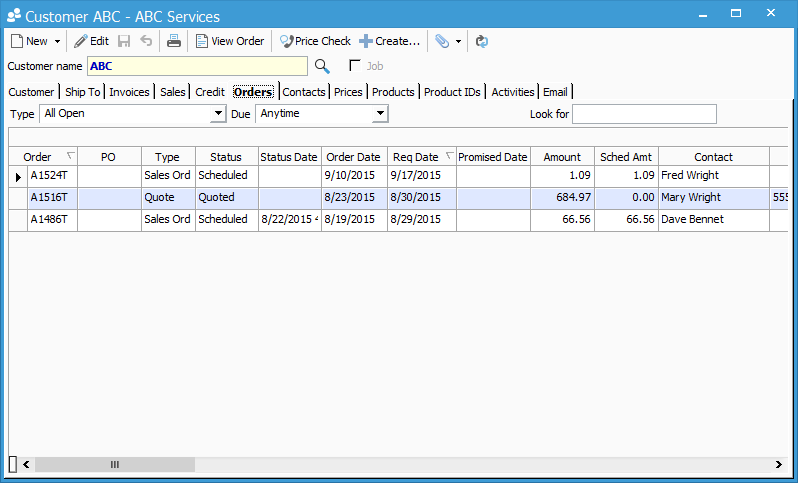 Contacts Tab
The contacts tab contains customer contact information and allows you to enter multiple contacts for one customer. The Contact ID is given to reference the full contact information. Similar to Ship To locations, one customer may have many Contacts associated with them. Users can click Add to create a new Contact, Edit to modify the current contact displayed, or Delete to remove a contact.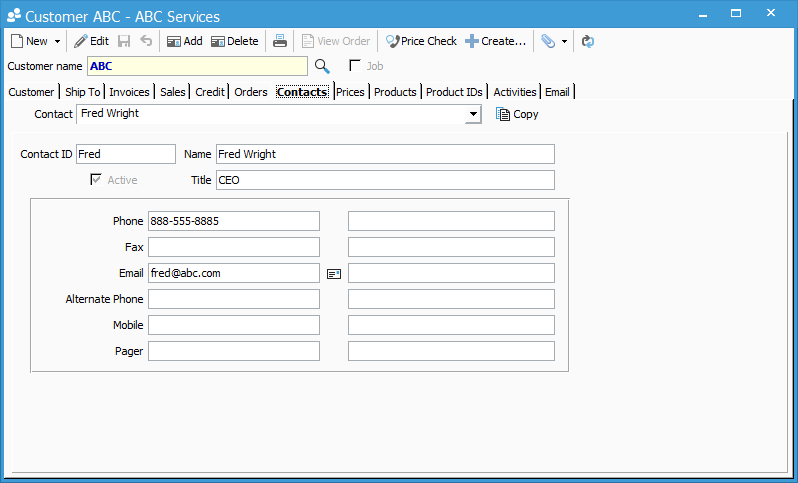 Prices Tab
This tab is used to enter special or contract pricing. Customer specific prices may be established in a variety of ways. In addition to or in lieu of the default price code, a specific price may be entered for individual products. Each product listed for a customer may specify either the Price Code to be used to price the product or a specific Price Amount and unit of measure.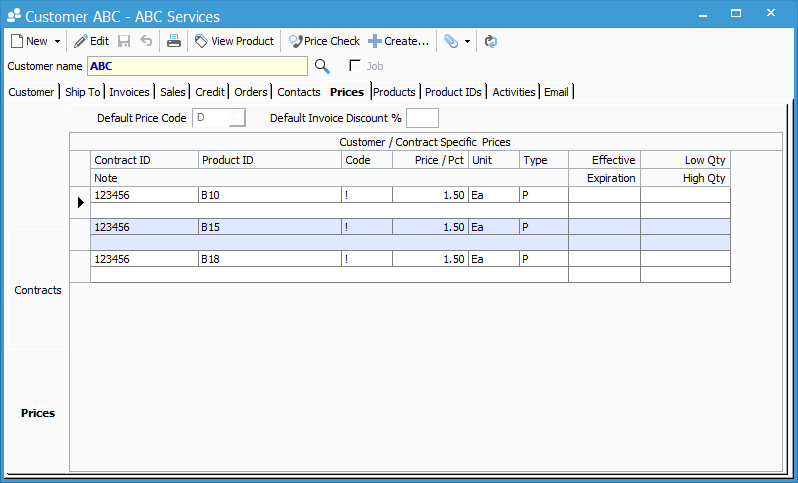 A single product may have a separate entry in the customer price table for each quantity break point and / or each specific effective / expiration date specification. For contract specific prices, the Contract number can be included.
Side tabs
Contracts: Clicking the Contracts Side Tab will allow you to view additional contract information.For more information, see our Contract Pricing article.
Prices tab:

Default Price Code: A customer may have a Default Price Code automatically selected for each product entered on a order, invoice or quote.
Default Invoice Discount %: A standard invoice level Default Discount percent may be supplied.
Products Tab
This tab displays the various products that have been sold to the currently selected customer, in which the list is broken down into each product for each order. The list can be filtered by clicking the Product ID column, or by using the Look For and Product ID Lookup fields.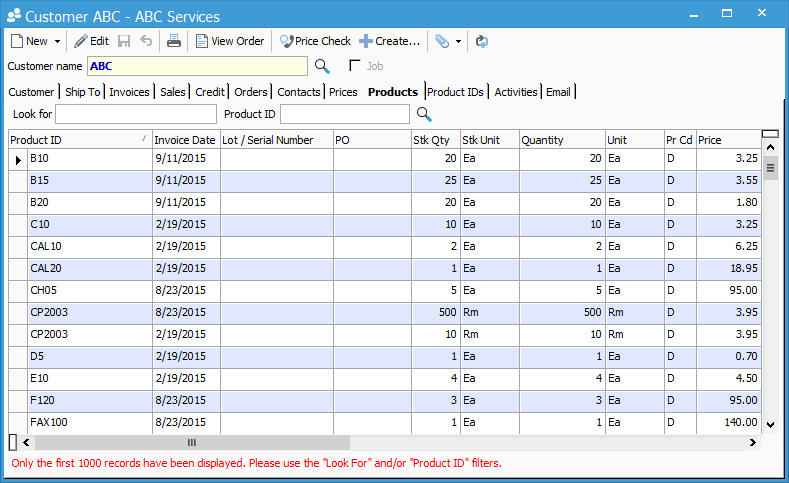 Product IDs Tab
This tab allows products in the system to be assigned customer product IDs and descriptions. For each Acctivate Product ID and Description, users can enter a customer-specific Product ID and customer-specific Description.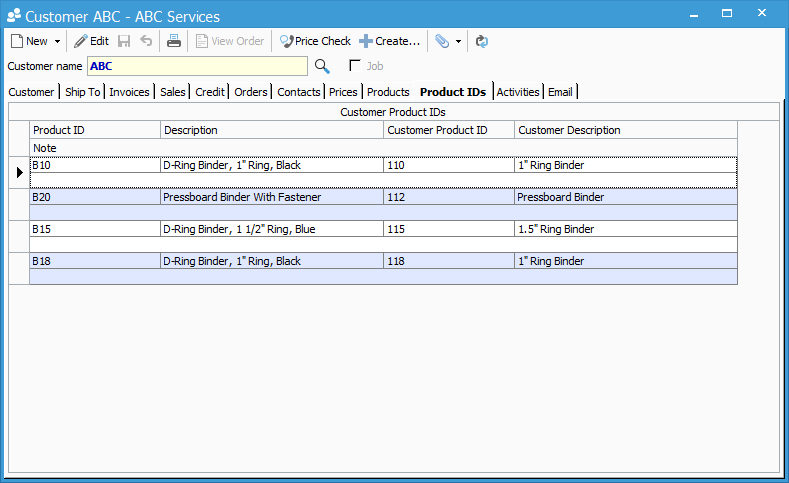 Email Tab
You can send email directly from the Customer Information window. A copy of this email is then directly stored and attached to customer record in this tab for future review.
From Outlook and Outlook Express, email messages can also be dragged and dropped into the Email tab of any screen in the system (only in Edit mode).
Optional Tabs
Job: If a job is created for a customer in either Acctivate or QuickBooks, the Jobs tab will display with information about each job for the customer. To access a job from the customer double-click the specific job within this tab.
Activities: This tab displays a history of issues dealing with the currently displayed customer. Each issue is a record of some specific problem or question usually reported from the customer back to the Acctivate user
Custom: The Custom Tab only appears within the Customer Information window, if a custom field has previously been defined for the Customer window in the Configuration Manager > Custom Fields folder.