NOTE: The following article is regarding SQL Server 2012. We recommend starting with a newer version if possible, but the following my be useful. Please contact the Acctivate support team for questions on newer versions of SQL Server.
Acctivate QuickBooks Inventory Software will automatically install a new ACCTIVATE instance of SQL Server Express Edition if an ACCTIVATE "named instance" is not found on your server. You can upgrade it to SQL Server Standard edition later or use an existing SQL Server instance on another server. Another option is to start with Microsoft SQL Server 2012 Standard on your Windows Server.
The following instructions assume that you have purchased SQL Server 2012 Standard Edition and are using the Microsoft SQL Server installer package. Alterity does not sell Microsoft SQL Server. You can purchase SQL Server online or from a Microsoft reseller or partner.
Planning
1. Please read through our Installing SQL Server guidelines.
2. Verify Hardware and Software Requirements
Launch the SQL Server Installer on your server
Select Planning on the left
Click Hardware and Software Requirements on the right
Install SQL Server 2012
1. Launch the SQL Server Installer on your server and select Installation on the left
2. Click New SQL Server stand-alone installation or add features to an existing installation



3. Verify the Setup Support Rules all Passed then click OK
4. Enter your Product Key provided by Microsoft or the licensing partner and click Next. We do not recommend using the Evaluation as it will expire after 180 days and your database will be inaccessible.
5. The Setup Support Rules list will appear again. Please verify that all rules Passed then click Next
6. Choose SQL Server Feature Installation on the Setup Role step then click Next


7. check the following boxes during the Feature Selection step then click Next

Database Engine Services
Management Tools - Basic
Note: The Shared feature directory should usually be left on the Windows volume (e.g., C:\Program Files\Microsoft SQL Server\). You will have the option to locate the database files on another volume in the Instance Configuration step (below).
8. Verify the Installation Rules passed then click Next
9. Select the ACCTIVATE Named Instance and review/adjust the Instance root directory for the desired location of your data files on the Instance Configuration step then click Next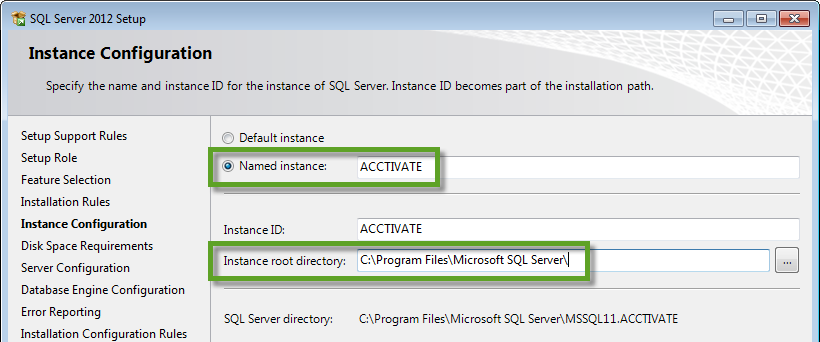 10. Verify the Disk Space Requirements (~1GB for SQL Server 2012 Standard) and click Next
11. Review the Server Configuration and adjust the SQL Server Browser to Automatic startup (Disabled by default).

12. Adjust the Database Engine Configuration then click Next
Switch to Mixed Mode Authentication Mode
Provide a password for the SQL Server "sa" account
Add Current (Windows) User to the SQL Server administrators group

13. Review the Error Reporting options. You can just leave the defaults and click Next
14. Verify that the Installation Configuration Rules all passed then click Next
15. Carefully review the Ready to Install summary then click Install to begin the installation process
Instance ID/Name should both be ACCTIVATE
Double-check the folder locations selected
16. The Installation Progress step may take 15-20 minutes. Please be patient and take note of any pop-up warnings or errors.
17. The Complete page should be displayed with the "Succeeded" status for each component. You may be prompted to restart Windows after installing SQL Server 2012. Please be sure to restart Windows before attempting to install Acctivate.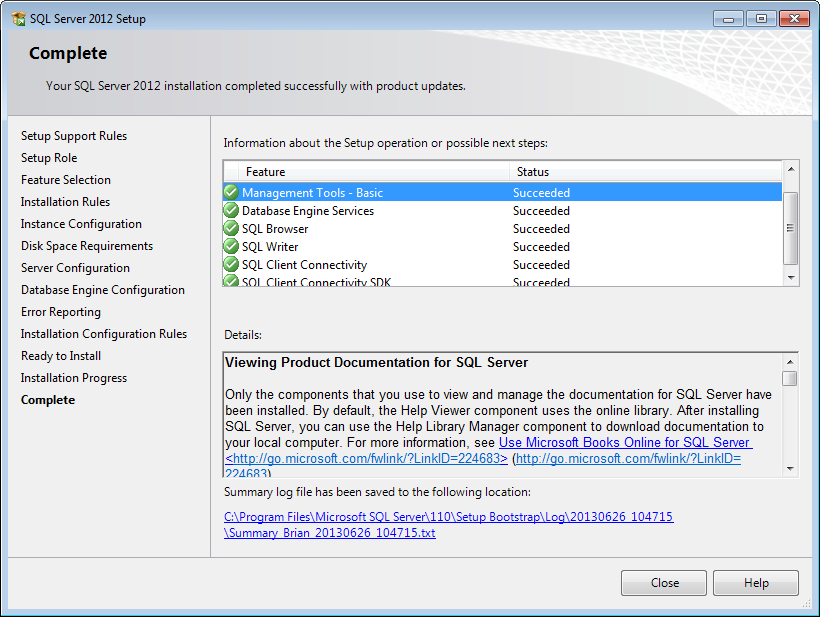 Congratulations on a successful installation!