This article outlines the steps for the installation of SQL Server Express 2016. The process is very similar for different versions.
Acctivate QuickBooks Inventory Management Software inventory platform is built upon a solid foundation that includes Microsoft SQL Server.

The Acctivate Server (New/Full) Install package includes SQL Server Express Edition. However, there are times when you may need to install SQL Server Express for Acctivate separately. Please follow the instructions below to install and configure SQL Server 2016 Express Edition for Acctivate.
Note: SQL Server is only required on the server/primary computer for Acctivate. SQL Server 2016 requires a 64-bit Windows operating system. Also, 32-bit SQL Server on a 64-bit operating system (WOW64) is no longer support as of the 2016 version. Please refer to the System Requirements for SQL Server, provided by Microsoft.
1. Download the SQL Server 2016 Express installation utility from Microsoft, launch the installer
2. Select an installation type: Basic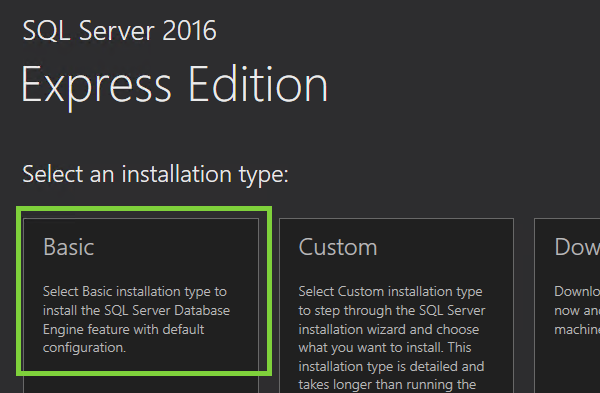 3. Choose the package you would like to download – Express Core and click Download (default options).
4. Once the download has completed, click Open folder, then switch back and click Close to exit the SQL Server 2016 Express Edition download utility.
5. The new file should be named SQLEXPR_x64_ENU.exe, located in your Downloads folder. Launch the new installer file.
6. Use the default Directory for Extracted Files (temporary files).
7. Click New SQL Server stand-alone installation or add features to an existing installation(first option, below)

8. You should Use Microsoft Update to check for updates (recommended), especially if this is a new server or you haven't ran Windows Updates lately
9. Verify that all Install Rules have Passed. Note: The "Warning" status may be okay, just be sure you click Warning to view and understand the message.
10. Click Next > then choose the Perform a new installation of SQL Server 2016 option then Next > again.
11. Review the terms, then check I accept the license terms and click Next > again.
12. You must install Database Engine Services, that's the primary SQL Server engine. However, most users can un-check the SQL Server Replication option. It's also recommended that you keep the Instance root directory on the Primary disk running Windows, under \Program Files\Microsoft SQL Server\. You can store the data / backup files in another location (later). Click Next > to proceed.
13. We strongly recommend that you use ACCTIVATE as the Named instance. This allows the Acctivate installer to automatically connect and configure the databases. Change the default SQLExpress to ACCTIVATE then click Next >.

13. You can leave the default Server Configuration settings (Service Accounts and Collation) for most situations, click Next > again
14. The Database Engine Configuration will require a few changes. First, change from Windows authentication mode to Mixed Mode (SQL Server authentication and Windows authentication). Then, choose a strong password for the SQL Server system administrator (sa) account. You'll need this during the Acctivate setup. You may also want to Add Current User if you're not already a domain/server administrator. Now, let's switch to the Data Directories tab and continue (below)
15. The SQL Server engine will be running on the primary, Windows drive (step 12 above), but we recommend that you consider the location of the User database directory carefully. It will contain the Acctivate databases. Ideally, it will be located on a high performance disk (e.g., SSD) and also have redundancy (e.g., RAID).
16. The Backup directory should be selected for capacity and long-term reliability. I/O performance is not as important for the backup directory.
17. Once the Data Directories have been verified, you can click Next > then the Installation Process will begin.
18. You should receive a message that the installation has completed successfully with a Status = Succeeded. If not, please contact our support team to review.
Great job! SQL Server should be ready for Acctivate now!