In Acctivate 11.2 or later, you can delete customers in QuickBooks which will delete the customer in Acctivate if they have no related records
A common question that users ask is how or whether customer records can be deleted out of Acctivate.
The short answer is that Acctivate does not have an interface to delete records, but starting in Acctivate version 11.2, customers deleted in QuickBooks will be deleted from Acctivate, provided the delete customer does not have any of the following records in Acctivate, otherwise the customer will be recreated during the next sync.
Sales invoices
Sales orders
Customer contacts
Customer contracts
Assigned marketing lists
Customer notes
Customer specific pricing
Customer specific products
Shipments
Business Activities.
Note: If the configuration option Only synchronize new customers with transactions option is enabled, customers deleted in QuickBooks will not be deleted from Acctivate.
In versions prior to 11.2, you cannot delete customer records via the sync, however, you can deactivate customer records in Acctivate or merge duplicate customers in QuickBooks.
Simply open the customer in Acctivate and go to the "Credit" tab. Once there, you should see a checkbox with the label "Active" on it. Enabled editing mode and uncheck the "Active" checkbox.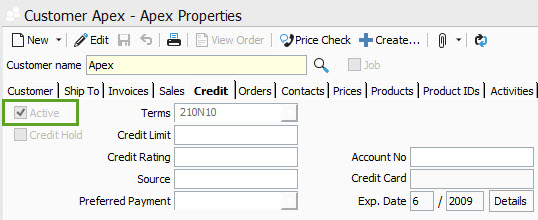 Save the changes and you'll no longer see the customer in the customer search window. You can still call up the record if you include inactive customers in the search if you need to look them up at a later date. This can be undone at any time by simply opening the customer and re-checking the "Active" box.
Again, this does not remove the customer from Acctivate, but it should prevent users from accidentally using a discontinued customer record.
Options for cleanup of customer records:
Customer is old or inactive or you no longer want them to appear in your customer list - Make the Customer Inactive. This allows the user to filter the list using the Include Inactive checkbox.
The customer has two or more records, that should be combined - Merge Duplicate Customers in QuickBooks. This allows the user to merge the customer and existing transactions into a single customer record.
In the case of a corrupted customer record or a duplicate, contact Acctivate Support for assistance.