Information on how to de-list and deactivate customer records in Acctivate
A common question that users ask is how or whether customer records can be deleted out of Acctivate. The short answer is that customer records cannot be deleted out of Acctivate through any conventional means within the system. This is limited to ensure the data integrity and robustness between Acctivate and the connected accounting software. Additionally, customer records are tied directly to so many transactions within the Acctivate system that deleting the customer could lead to a lot of orphaned data records and overall system destabilization.
That being said, if you do want to keep certain customer records from showing up in the customer search window, you can deactivate the customer record.
Simply open the customer in Acctivate and go to the "Credit" tab. Once there, you should see a checkbox with the label "Active" on it. Enabled editing mode and uncheck the "Active" checkbox.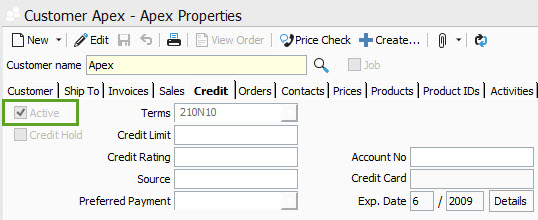 Save the changes and you'll no longer see the customer in the customer search window. You can still call up the record if you include inactive customers in the search if you need to look them up at a later date. This can be undone at any time by simply opening the customer and re-checking the "Active" box.
Again, this does not remove the customer from Acctivate, but it should prevent users from accidentally using a discontinued customer record.
In the case of a corrupted customer record or a duplicate, contact Acctivate Support for assistance.