This is the step-by-step procedure to back up one company in Acctivate. If you have more than one company, you must follow this procedure for each company you wish to backup.
Open Acctivate
Open the Backup Company Data Window by going to File > Backup Company

To separate the backup you're currently making from the existing sets, you can modify Backup File name. However, this is NOT necessary. This is typically done by the Support team when we need to grab your backup for testing to limit the file size.
Feel free to give it a Backup Description for more details in case you need to restore.
You have two options in the Backup Company Data Window:

Add to existing sets by simply starting the backup. This will make the file size of your backup file larger. Backup sets are useful when you need to back up to before an event occurred that affected your database.
Overwrite existing sets will overwrite all existing sets. Periodically, you should overwrite to provide a smaller backup file. However, you should have a couple copies of the database (by renaming your backup file) in order to save the backup in different points of time without having a large backup file with multiple sets.

When ready, click on the Start Backup button.
Acctivate will prompt you to verify your selection with a pop-up window. Click Yes to proceed.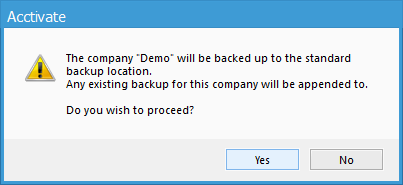 Acctivate will process the backup and will notify you of the directory in which the backup file was saved on your system. Please make note of this directory if you want to store a copy of it elsewhere.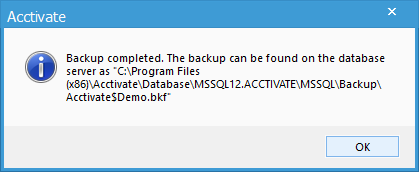 Next, you should consider copying your backup off your system and onto a portable media such as an external hard drive or cloud server. Find the file that you just created and copy it to the media of your choice.
Once the backup is placed on the additional drive, it is crucial that the backup be taken off-site at the end of the business day. It will do you no good to have your backup drive in the same building as your computer system if your building burns down. You can achieve this by also saving the backup file to a cloud server.
In order to have the latest data backed up, you should perform this backup daily and you should test your backups periodically.
Your data is now backed up.
Click here for more information on developing a Backup Routine. Do you use Custom Reports in Acctivate? You should consider backing up these report files as well.