Make sure inventory in that warehouse has been transferred to a different warehouse. File > Configuration Manager > Inventory > Warehouse > Edit > uncheck "Active". In the Product window, Edit > highlight the warehouse > delete key on keyboard > Yes
Occasionally, it may be necessary to discontinue the use of a warehouse in Acctivate. Although a warehouse with transaction history cannot be completely deleted from the database, there are a few steps you can perform to remove the warehouse from appearing on the Inventory tab of the Product window, as well as the Warehouse drop down list on various transactions. This article will walk through the process of marking a warehouse as inactive and removing the inactive warehouse from your Acctivate product window.
Before beginning the process of discontinuing your warehouse, make sure that any inventory previously stocked in that warehouse has been transferred to a different warehouse. This will ensure that your inventory levels are accurate before the old warehouse has been discontinued.
To begin, go to File > Configuration Manager > Inventory > Warehouse. Highlight the warehouse that you wish to no longer use, then click Edit and uncheck the "Active" checkbox.
Once this change is Saved, this warehouse will be hidden from any Warehouse drop down menus such as those in the Inventory Assembly, Transfer, Receipt and Adjustment windows and on new Purchase Orders. Previous transactions will not be affected, and any transaction and order history will still remain in the Acctivate database for this warehouse.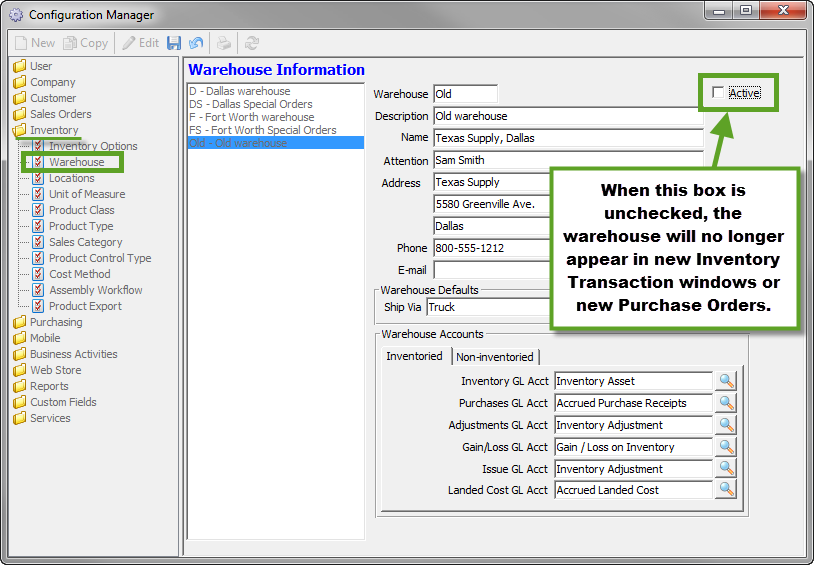 Now that the warehouse is hidden from future transaction windows, it can be removed from individual products. In order to delete a warehouse from a product record, the total value and quantity of the inventory in that warehouse must be zero. If there is remaining inventory in the discontinued warehouse, the product will need to be transferred to another warehouse or adjusted out of the discontinued warehouse.
Once the value and quantity for this product is zero, the warehouse can be removed by clicking Edit, then highlighting the warehouse and hitting the delete key on the keyboard. A prompt will appear on the screen warning that the warehouse will be removed, click Yes to accept the changes.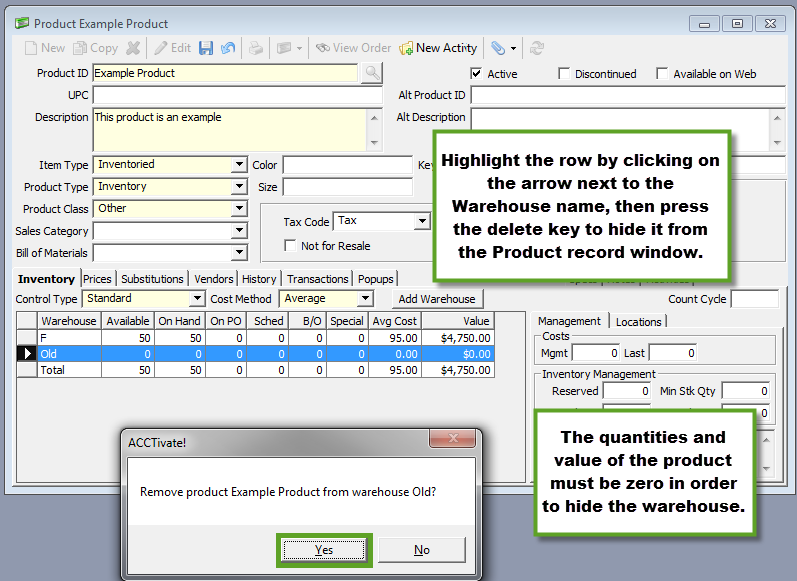 Again, previous transactions related to this warehouse will not be deleted. The warehouse will only be "hidden" from future transactions in Acctivate, and historic data will remain in the database for reporting purposes.