Receive inventory from the Pocket PC to Acctivate by logging in to Acctivate on the mobile device, selecting Inventory, Receive, select PO# or W/H, fill in information and quantity, and select the check mark when you are finished.
New to 11.1 is an Android version of Mobile receiving. Scroll to the bottom of the article for a link to our docs page about receiving in orders on Android.
Windows Mobile
Mobile Inventory Receiving is a mobile add-on module that allows for inventory to be received directly from your Pocket PC, which tie into your main Acctivate system.
Receive Inventory on Mobile DeviceLog into Acctivate on your Pocket PC using the same credentials as on the desktop version.
The main menu will open with two options, select Inventory

From the next menu, select Receive to begin receiving inventory

In the next screen, you have 2 options:



PO# – Receive products related to a specific Purchase Order by scanning the PO Number or selecting from the lookup
W/H – Receive directly into the Warehouse without a related Purchase Order by selecting a Warehouse from the list. As always, we recommend receiving based on a Purchase Order. This way the PO Invoice reconciles the posted receipt session. When receiving without one, someone will need to manually reconcile the Purchases account assigned to the warehouse.

Click the right arrow after making your selection
Depending on your Configuration settings and the option chosen in Step 4 above, you'll see the following:

PO#: All outstanding products listed on the PO will pull in when PO received in full by default chosen in Configuration Management > Mobile > Inventory Receipts. Edit what was actually received, if different than outstanding amount, in the Qty field.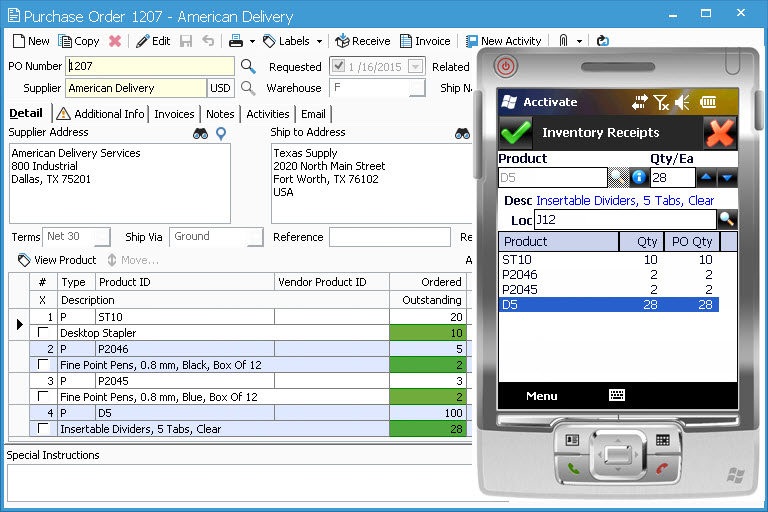 Without that option checked in Configuration Management, the user will need to enter the items receive by scanning the barcode, selecting from the lookup, or manually entering the ID.
W/H: Enter each product by scanning the barcode, selecting from the lookup, or manually entering ID. Specify the Qty received.
Specify the Qty received, as well as any other fields depending on need or other purchased modules (Lot/Serial number and/or Bin Location).
When all items are listed with the proper information, press the green check box on the top left hand side of the window to go to the next screen.
The user has the option to Print Product Labels and/or Print Put-Away List from this window.

Press the green check box when ready to Save Receipt (or post, based on option in Configuration Management > Mobile > Inventory Receipts > Automatically post inventory receipts)
Afterwards, you'll see a message similar to below based on the option to post or not

If you are simply saving the Receipt Session, you can now open the session listed in the above window to verify the information. Post when ready from desktop.
Android Mobile
For Android specific instructions, check out our docs page.