Deleting a Warehouse from a Product
The quantity on hand for the warehouse in question must be zero. Edit > highlight Warehouse > press Delete key on keyboard > Yes > Save
Occasionally, you may want to remove a warehouse on a product. This does not remove any historical transactions or delete the warehouse from the database. Removing the warehouse from a product hides the warehouse only for the product you are editing.
First, the quantity on hand and value for the warehouse in question must be zero. If the warehouse you want to remove has quantity, you must adjust the inventory or complete an inventory transfer to move it to another warehouse.
After, the quantity on hand and the value for the warehouse you intend to remove are set to zero.
Click Edit
Highlight the warehouse to be removed by clicking on the arrow next to the warehouse name
Press the delete key on your keyboard
You will receive a notification that you are about to remove a warehouse from the product, click Yes
Save the product changes when done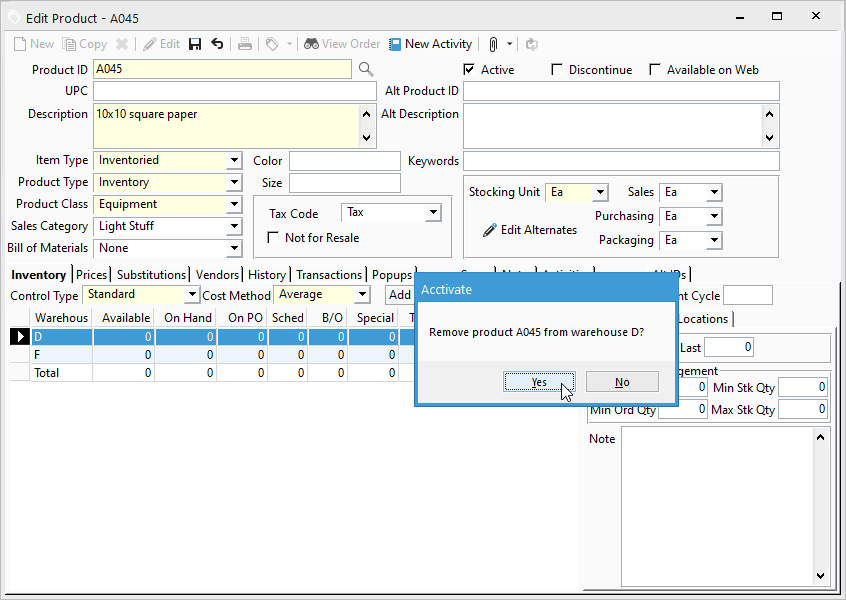 If you need to Discontinue a Warehouse in Acctivate please refer to this help article how to Deactivate a Warehouse.