Here are a few possible workarounds to allow users to send email within Acctivate.
Try disabling Cached Microsoft Exchange Mode
This mode is enabled by default when creating a new Outlook profile and allows an Outlook profile to be sync'd from the Microsoft Exchange server to the local machine. When Outlook starts up, it will check all the folders to ensure all changes are pushed and received. The idea is if you move machines often, then your profile will always be up to date and will not need to "redownload" the Outlook profile upon startup. Some downsides mentioned here below and should be considered by anyone whom manages the Exchange server environment and their users: http://superuser.com/questions/62156/are-there-disadvantages-to-using-outlooks-cached-exchange-mode
To Disable Cached Microsoft Exchange Mode, open Outlook and go to File > Account Settings > Account Settings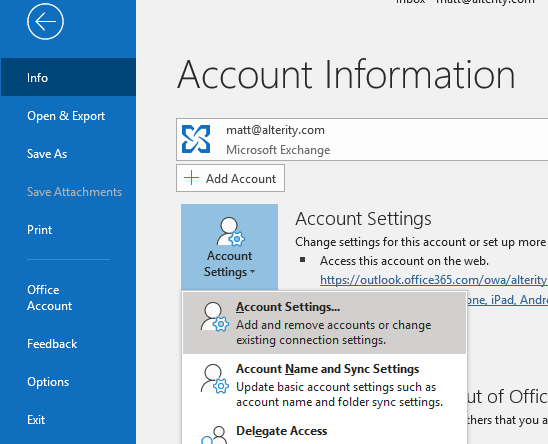 Click on the Outlook profile > Data Files Tab > Advanced. You should see "Cached Exchange Mode Settings" and it might be enabled by default. Uncheck this option and then restart Outlook.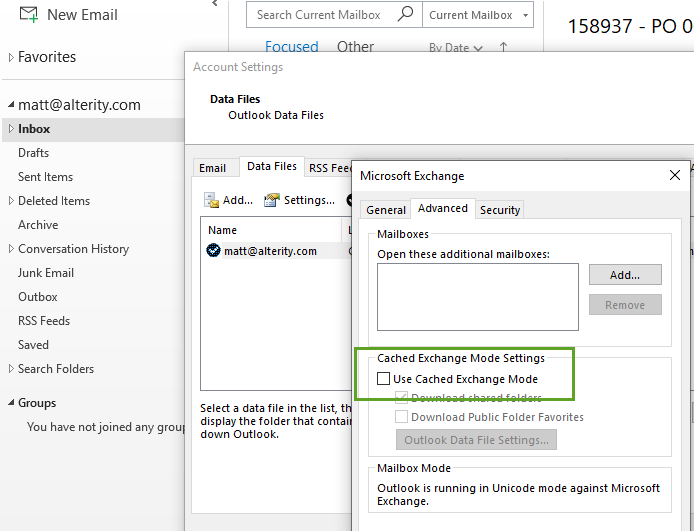 Once Outlook has reopened, attempt to send an email from Acctivate.
Consider using SMTP instead of Microsoft Mail (MAPI) protocol
Acctivate can be configured to connect to an email server using SMTP instead of MAPI, which is usually a more forgiving and is the preferred method in regard to connecting and sending email. . You can also read more about configuring Acctivate to use SMTP here.
Verify Outlook is installed as a 32bit application
Outlook can be installed as a 32bit application or a 64 bit application. Microsoft still recommends Outlook being installed as a 32bit application at this time. During the installation of Outlook, users are typically prompted to use 32bit if they require third party applications, such as Acctivate, to connect and send email. Acctivate also HIGHLY recommends you install Outlook as a 32bit application.
Review Office 365 Security Settings
You may review this Microsoft article regarding modifying our mailbox permissions, which will allow third party applications to send email utilizing a different email account.
Verify your current connection information in Acctivate
As user accounts are upgraded, we believe some user accounts may actually be "recreated". Verify Acctivate is currently configured properly to connect to the user's Office 365 account. This is our guide for connecting Acctivate to an Office 365 account.