Some helpful tips for properly managing your customer contacts in Acctivate.
Contact management is included in Acctivate's Customer Relationship Management (CRM) functionality. Multiple contacts can be stored for each customer in Acctivate. Having contacts in one database eliminates the hassle of re-keying them when they are needed throughout the system and allows access to all users within your organization.
In Acctivate, contacts for every customer can be entered in the Customer window > Contacts tab. Contacts can include information such as a person's name, title, phone number and email address among others. There is no limit to the number of contacts you can add to each customer.
To add a new contact to a customer:
Go to Customer > Customer Information to open the Customer window.
Select a current customer from the Lookup window or add a new customer.
In the Contacts tab, click the Add New Contact button from the Customer window toolbar. Do not click edit to add contacts.
Fill out all relevant fields with the contact information. Make sure to:

Have the Active checkbox checked for those contacts you wish to be active.
Enter a unique Contact ID,such as a person's first name or initials for each contact. Contact ID is a required field and must contain a different ID for each contact within that customer. It is used in the Lookup window to quickly find a specific customer or contact.

Click the Save button. The new contact is now listed on the Contact drop-down list.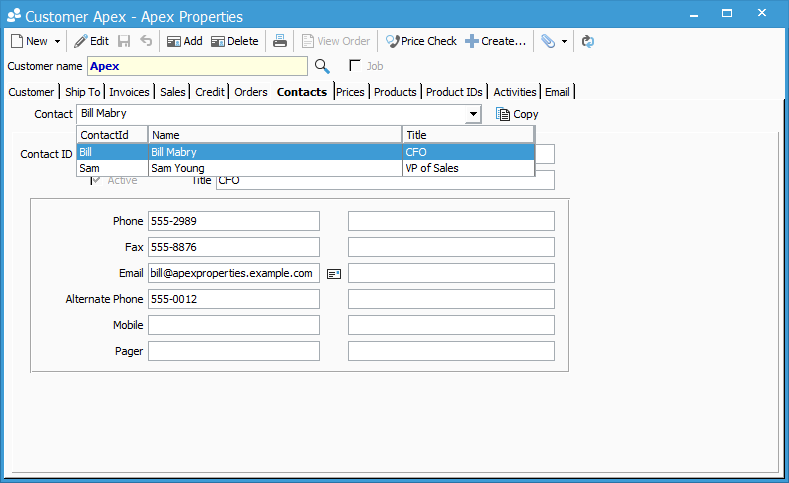 Once you have established contacts in the customer window their information will appear in several other windows. The contact information is found on the right side of the Business Activities, Sales Order and Sales Quote windows associated to that customer. Each of these windows will display the main contact's name, phone number, fax number and email address when available. You can also change the contact information that is displayed in each separate window.