This article shows step by step how to use an existing transfer session or create your own on a mobile device.
Mobile Inventory Transfers is a mobile add-on module that allows for inventory to be transferred from one warehouse and/or bin location to another directly from your Pocket PC, which tie into your main Acctivate system. Mobile transfer is only available on Windows mobile. A mobile transfer module for Android will be coming in a later build.
Transfer Inventory on Mobile Device
Log into Acctivate on your handheld device using the same credentials as on the desktop version.
The main menu will open with two options, select Inventory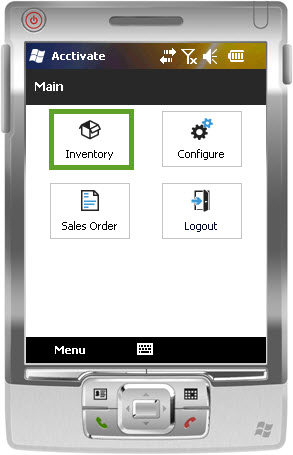 3. From the next menu, select Transfer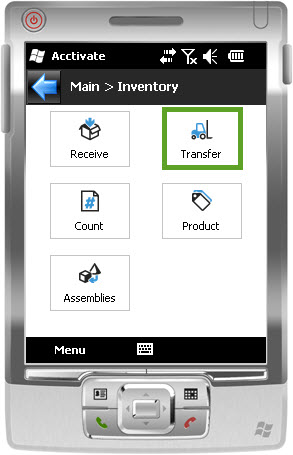 4. This opens the Inventory Transfers screen which shows 2 options:
Open existing transaction – Choose an Inventory Transfer session which was created and saved prior to opening this window.
Choose From and To warehouse to create a new Inventory Transfer session – If a session hasn't been created, leave option 1 unchecked.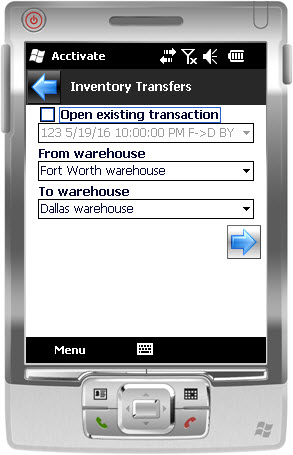 When transferring between bin locations within the same warehouse, make sure the From and To warehouses are the same.
5. When ready, click the Right arrow
6.Add the product(s) you wish to transfer. This can be done by scanning a barcode, looking up the item, or manually entering the ID in the Product field.
If transferring a lot/serial numbered item, the next screen will allow the user to scan, look up, or enter the lot/serial number, as well as the Qty and/or bin location.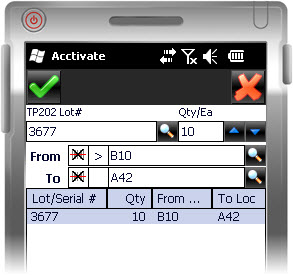 7. Specify a Qty for the item
8. If using bin locations, you have the option of scanning, looking up, or manually entering the From location and looking up or manually entering the To location.
9. Once all items are loaded, click the green check mark in the top left-hand corner.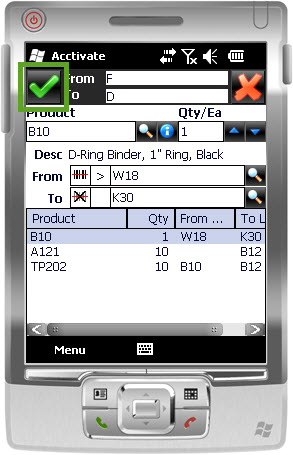 10. The next screen gives the user the ability to Save and/or Post the transfer session.
The Post transfer session option will be available based on the option in File > Configuration Management > Mobile > Inventory Transfers > Allow posting transfers from the mobile device.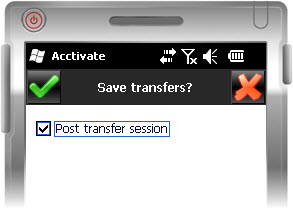 11. Click the green check in the top left-hand corner to submit/post the session
12. Saving the session will give you a message similar to "Inventory transfer session 124 submitted". The message changes slightly when posting to "…session 124 posted". A saved session will be available to open at a later date whether you need to open on the mobile device or in the Acctivate desktop app.