Standard reports are located in the Acctivate data share folder while Custom Reports are located in the Custom Reports folder in the AcctivateData data share folder.
If adding a new a new custom report in Acctivate, complete all of the following steps, this is one way to navigate to the correct CustomReports folder.
If you are updating an existing report with the same name you only need to complete steps 1-4, after navigating to the custom reports folder and replacing the existing report you are finished. These file types cannot be opened without Crystal Reports. When loading reports sent from an outside party, simply save in the proper location.
You only need to follow steps 5-7 when adding a new form/report that did not previously exist in your report catalog.
First know what version of Acctivate you are currently using. (folder location changed in version 9.0).
If you have version 9.0 or later - \\..\ACCTivateData\CustomReports
If you have a version prior to 9.0 - \\..\ACCTivate\Reports\Custom
To navigate to the CustomReports folder from within Acctivate
Go to Help > Acctivate Support > Email Acctivate Log File > Open Folder

2. Once the Windows Explorer folder is open, navigate up one directory to ACCTivateData.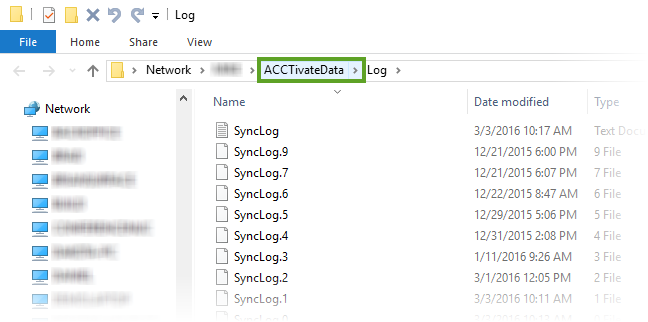 3. Double Click to open the CustomReports folder, and place your report inside.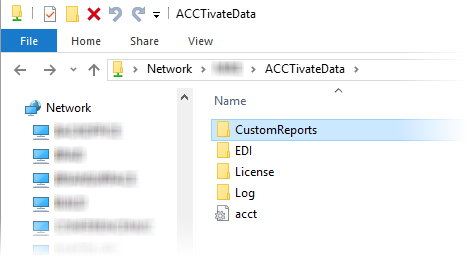 4. You may be Prompted to "Replace" the previous report, Click "Yes" to replace.
If replacing an existing report this completes the process. You may "STOP" here.
For "New" reports that are not already in your Acctivate Report Catalog, you should continue.
Continue ONLY IF you are NOT replacing an existing report follow the remaining steps to add the custom report in the Report Catalog
File > Configuration Manager > Reports > Report Catalog
To add a new report, select a folder for report and click the Add Report icon.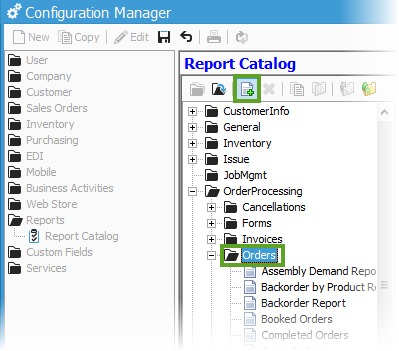 To copy an existing report first select the report you want to copy, and click the Copy Report icon.
Update the Report ID, Report Description, and Report Filename of the copied report.
2. Once the "Add Report" icon is clicked, this will add a new report file under the current folder. Enter in the name of the report you would like to add. Then Browse to the report using the "Report File Name" field on the right. Be sure to add a "Permission group" to define where the report will show under the Report Look ups.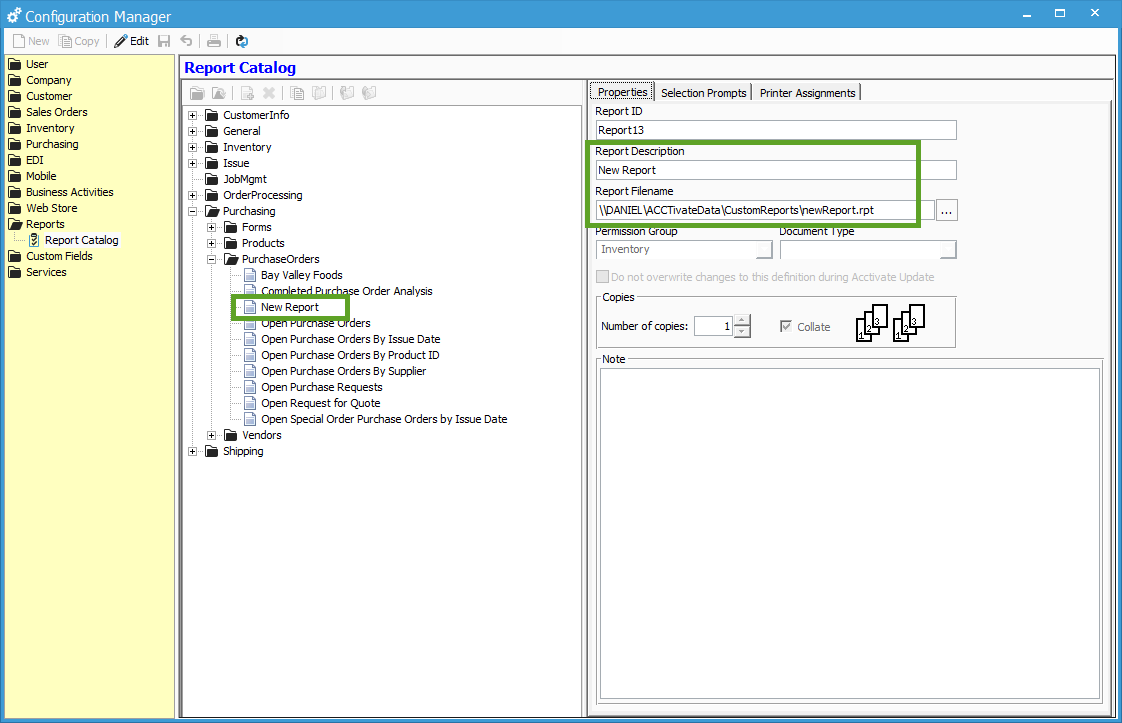 3. Once that's added, click SAVE on the top left and you can now use the report by going under the "Permission Group" on the previous step. In this example, the report will be under Inventory at the top > Inventory reports.
Remember to check the "Do not overwrite changes to this report definition during Acctivate Update" checkbox to ensure that your report configurations are saved when you update Acctivate!