"The network name cannot be found." when opening Acctivate Mobile
Change the AcctivatePath used by your server's mobile webservice path to the correct path. This can be done with the IIS Manager.
If you start the Acctivate Mobile app on an Android device, you might get the following error:
System.Web.Services.Protocols.SoapException: The network name cannot be found.
Typically, this means that the mobile webservice has a path to the Acctivate server's Acctivate folder/share that isn't valid. You can edit the path the mobile webservice uses by using the IIS Manager. Perhaps the server name is misspelled or the path is completely missing for some reason.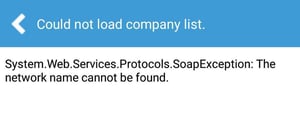 If editing the AcctivatePath doesn't address this problem, contact the Acctivate Support team to assist with troubleshooting.