Resolving "Outlook Cannot log on." Error message when sending emails from Acctivate.
This help article assumes that your Acctivate user email is configured to use the Microsoft Mail / Mapi configuration option.
If an end user is receiving the error message below when attempting to send email from Acctivate, this most likely means the Outlook mail application needs to be updated. This Microsoft Article explains how to check for and install Office updates. After updating office, this error message should be resolved. If you are still experiencing issues with sending email, please submit a ticket to Acctivate support for further assistance.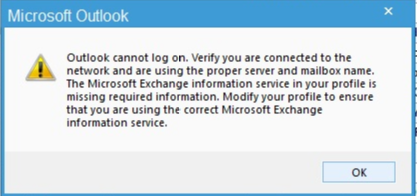 Error:
"Outlook cannot log on. Verify you are connected to the network and are using the proper server and mailbox name. The Microsoft Exchange information service in your profile is missing required information. Modify your profile to ensure that you are using the correct Microsoft Exchange information service."