Locating a list of official Acctivate Technology Partners and Consultants.
Acctivate has many types of Technology Partners and Consultants we work with. See the article below for more information.
Go to our Technology Partner page and our consultant Partner directory page for a list of partners users frequently use with Acctivate. To navigate the page, you will notice on the right panel "Find Technology Partners by type of integration" or "Find partners by expertiese". Scroll to the bottom of the page to see the rest of the list; this side panel will only scroll once you have scrolled to the bottom of the page. If a technology partner you currently use isn't on the list, please contact us to see if Acctivate can work with the partner.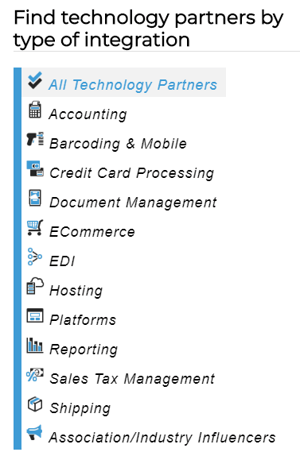 Such categories for Technology partners include the following:
Accounting
Barcoding & Mobile
Credit Card Processing
Document Management
ECommerce
EDI (VANs for Trading Partners)
Hosing
Platforms
Reporting
Sales Tax Management
Shipping
Association/Industry Influencers
Such categories for Consultants/Partners include the following:
Custom Reporting
ECommerce
Food & Beverage Industry Consulting
Implementation & Training
QuickBooks Consulting