This article goes over how to use the Print Pick Tickets tool to print pick tickets in bulk.
In Acctivate, users have two options for printing Pick Tickets:
Print a batch of Pick Tickets
Print a Pick Ticket on each order
Print a Batch of Pick Tickets
Navigate to Sales > Print Pick Tickets
2. The Print Pick Ticket window will open with multiple options available. The user can either Print new pick tickets or Reprint pick tickets.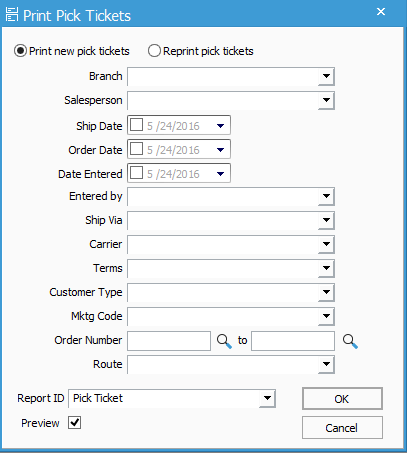 3. Regardless of printing new or reprinting pick tickets, the user can filter based on many options, as well as selecting an order range to pick from.
4. Once the user filters on the specified criteria, they can select a certain Report ID. This list will show any reports setup with a Document Type of Sales Order Pick Ticket in the Report Catalog, including any customized reports.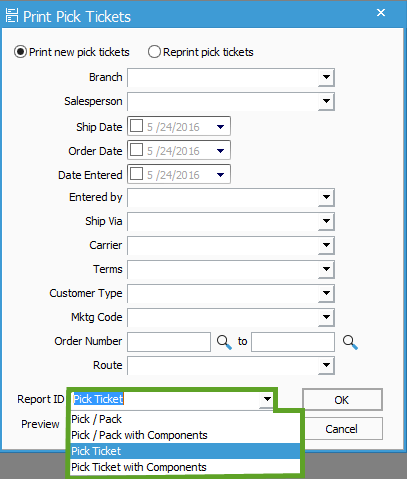 5. If you chose to Preview the Pick Tickets by checking the Preview box, a report preview window will appear. At the top you see page 1/### (the total number of Pick Tickets). You can use the arrow keys to view each Pick Ticket or navigate on the left and select a specific PO to preview. Then you can press the Print button and print your purchase orders.

6. Once you close the Preview window, a popup will open asking if your Pick Tickets printed properly. If they did not print properly, you may enter the last purchase order number that printed correctly and press Restart. If you choose to Cancel, this will save the settings as if they have not been printed at all. If they printed properly, select a specific Workflow status to update the order and click Finished.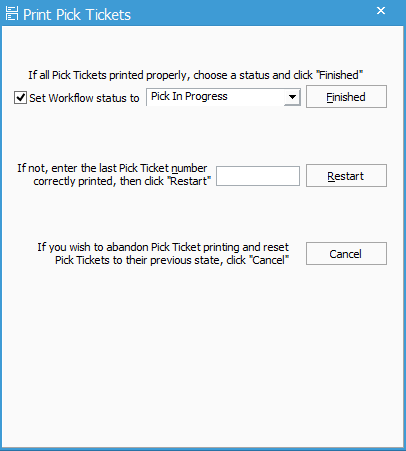 Print a Pick Ticket from an Individual Sales Order
Open the specific order you wish to print the Pick Ticket for by going to either Sales > Sales Order or click the Sales Order button on the icon bar
If you know the order number, manually type it in the Order Number field and press the Tab key on your keyboard. If you do not know the order number, click the magnifying glass next to the Order Number field and select the order from a list.
Based on the Sales Order Options in Configuration Manager the user can either click the Pick Ticket icon or the drop down menu next to the icon to select a specific form. The drop down menu gives you the option to email the form, as well as print.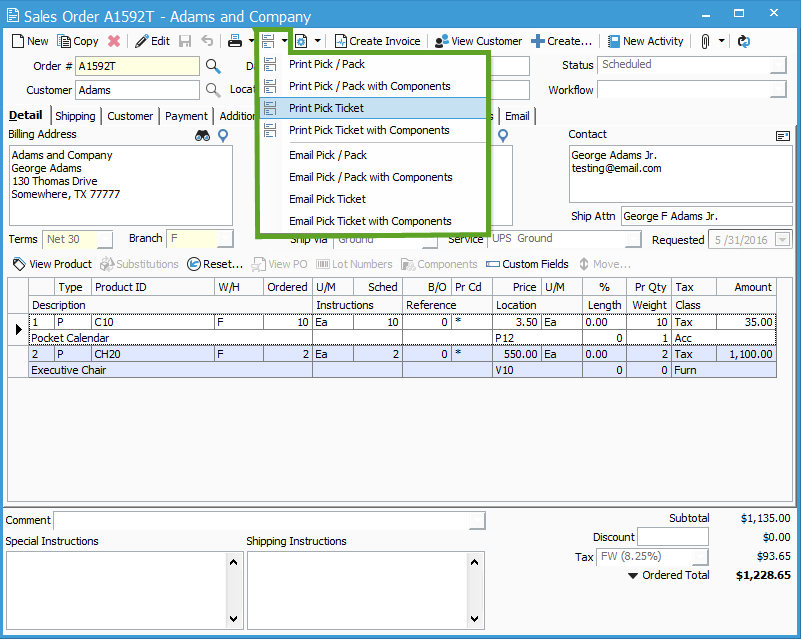 For more information on how Acctivate calculates the proper pick tickets to print, see this article: Acctivate Date Formula for Printing Pick Tickets