Users have two options for printing Purchase Orders: 1. Print Purchase Orders individually 2. Print a batch of Purchase Orders
Print an Individual Purchase Order
Open a Purchase Order by going to Purchasing > Purchase Order or clicking the Purchase Order button on the icon bar
If you know the Purchase Order number, type it in the PO Number box and press the Tab key on your keyboard. If you need to look it up, select the magnifying glass next to the PO Number box on the window. When using the look up window, you can filter on fields, such as PO Number, Vendor Name, Vendor Product ID, etc.
To use the default form, click the printer icon. If you want to select a specific Purchase Order report or email the form rather than print, select the drop down menu next to the printer icon.

Print a Batch of Purchase Orders
1. Go to Purchasing > Print Issued Purchase Orders

2. A window will pop up with some printing options:
Print newly issued purchase orders
Reprint purchase orders – This option will give you another set of selections to choose from including All, Issued on a specific date, or a range of Order numbers to choose from.
Issued By
Type
3. Select the option that fits your needs. We suggest checking the Preview box to give you an opportunity to go over what will be sent to your printer based on your selections.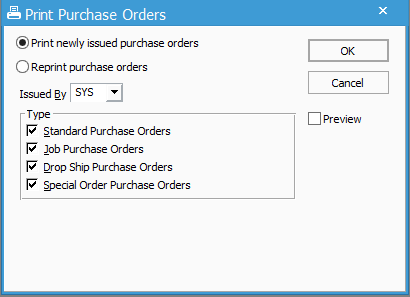 4. If you've chosen to Preview the Purchase Orders, a report preview window will appear. At the top you see page 1/### (the total number of Purchase Orders). You can use the arrow keys to view each PO, or navigate on the left and select a specific PO to preview. Then you can press the Print button and print your purchase orders.

5. Once you close the Preview window, a popup will open asking if your Purchase Orders printed properly. If they did not print properly, you may enter the last purchase order number that printed correctly and press Restart. If you choose to Cancel, this will save the settings as if they have not been printed at all. If they printed properly, click Finished.