What is the Process to Export Product Lists?
Go to File > Export Product List to export a list of products marked as Available on Web. Fields exported can be set under File > Configuration Management > Inventory > Product Export.
Only products marked as "Available on Web" will show on the Product Export list. To mark a Product as Available on Web, follow this article.
Goal
The overall goal of exporting the product list is to provide your shopping cart with the information about your products (stored in Acctivate) that you need to create a suitable web order. This information is exported from Acctivate and needs to be imported into the shopping cart.
Step 1:
Set the fields that you want to export in the Acctivate Congiruation Manager.
This process allows you to determine the information you want to see in the exported file.
This is a one-time setup, but can be changed any time by a user with access to Configuration Manager.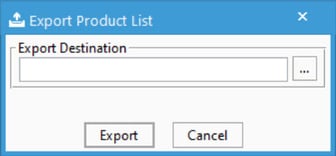 Step 2:
Go to File > Export Product List.
This action will open the small Export Product List window.
Step 3:
Choose a destination to export the file to (or it will use the default destination from configuration).
The export button will run a process that will create a file with the product information you selected.
Step 4:
From your existing shopping cart software, you must import the file you just exported.
All shopping cart software packages are different. Please read your shopping cart documentation for assistance.