What is the ''Receive POs in Full'' option?
This article explains what the configuration option, "receive POs in Full", is.
Acctivate supports a variety of options for receiving inventory from a Purchase Order. You can pre-fill the Inventory Receipt with the outstanding items and quantities from the Purchase Order. Alternatively, you can require each item and quantity to be manually entered on the Inventory Receipt transaction.
The Receive POs in Full configuration option should be reviewed and considered based on your company's requirements.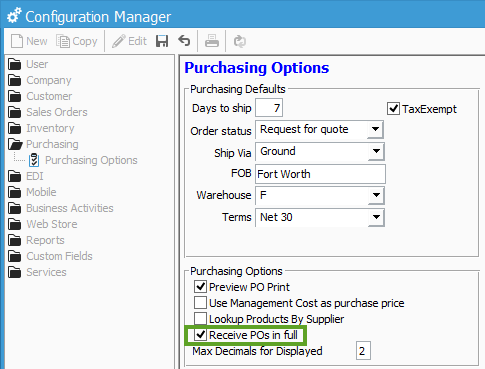 The Receive button on the Purchase Order toolbar will create a new receipt, including all outstanding items on the purchase order when the Receive POs in full option is enabled.


The Inventory Receipt window will appear, with the items from the Purchase Order in the grid. Additional Items can be added, quantities can be changed and/or items can be removed from the receipt prior to posting.