How do I remove an Acctivate License?
Go to Help > License Information. In the window that comes up, click on Remove license then enter your Acctivate ID and Password to confirm.
Acctivate caches the license information including purchased modules, number of users, etc. The license is synchronized automatically with our server periodically.
The Remove License function will permanently delete the cached Acctivate license from the computer. This function is only available for licensed copies of Acctivate.
Remove License is not necessary for transferring the Acctivate license to a new computer. Acctivate will automatically register on the new computer and remove the license from the old computer.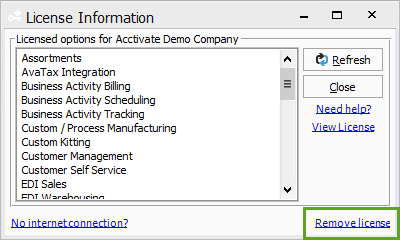 Launch Acctivate and log in to any company
Click License Information from Help menu in Acctivate
Click Remove License (screenshot above)
Click Yes to confirm removal of the license
Provide your Acctivate ID and Password from your original registration (e.g., email) and click OK

"Acctivate has been unregistered" message should appear