How do I resolve an invalid certificate error in Acctivate?
If you're getting an error from Quickbooks referencing an invalid certificate, take these steps.
QuickBooks requires that all Integrated Applications (e.g., Acctivate) must have a valid Digital Certificate. This certificate is required to allow the application to access the QuickBooks data. This also allows future access without the QuickBooks Admin in Single-User Mode.
Acctivate uses a digital certificate from Thawte, a third-party Certificate Authority. Thawte is a very popular certificate issuer with millions of applications and websites secured by their certificates.
The Acctivate.exe file is "digitally signed" with a Thawte Certificate. You can validate the certificate using the following procedure:
Right-click on the Acctivate shortcut and choose Properties
Click Open File Location or Find Target… on Windows XP / 2003
Right-click on the Acctivate executable file and choose Properties
Click the Digital Certificates tab, select Alterity Inc. and click Details
Verify that This digital signature is OK (see below)
The following error may occur if the Digital Certificate cannot be verified by your computer. Usually, you can Synchronize with QuickBooks from another computer or contact the Acctivate support team to resolve this problem.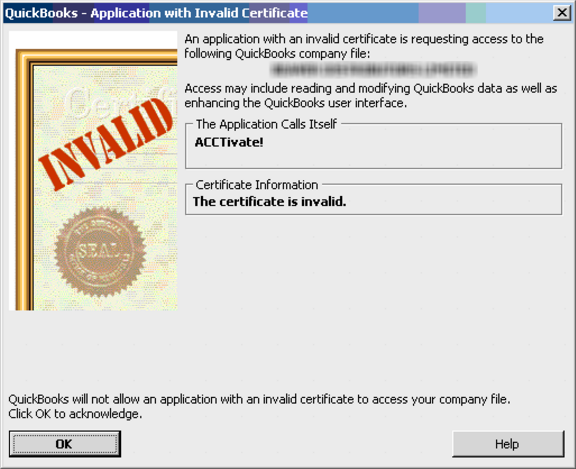 The Acctivate support team can provide you with the top-level Thawte Certificate, which can usually be exported from another computer as a DER encoded binary x.509 (.CER) file, then imported to your computer.