How to restore an Acctivate back up file
In Acctivate Database Maintenance, go to Database > Backup/Restore. Select the "Restore" option, choose the company (database) you want to restore over, and make sure you chose the backup you want to restore with. Finally, click Start Restore.
From time to time, you may need to restore a backup of your Acctivate company file. All users will need to log out of Acctivate in order to restore a backup. To do this:
Open Database Maintenance by going to the Start Menu -> Programs -> Acctivate -> Acctivate Database Maintenance
Browse to Database -> Backup / Restore
Select the 'Restore' option
4. Choose a company name from the Company drop down menu to select the Acctivate company you would like to restore. By default, the backup file will be populated as 'ACCTivate$CompanyName.bkf'.
5. If your Backup file has a different name, click the Browse button ([…]) to navigate to the proper .bfk file location. This step can only be done from the server computer.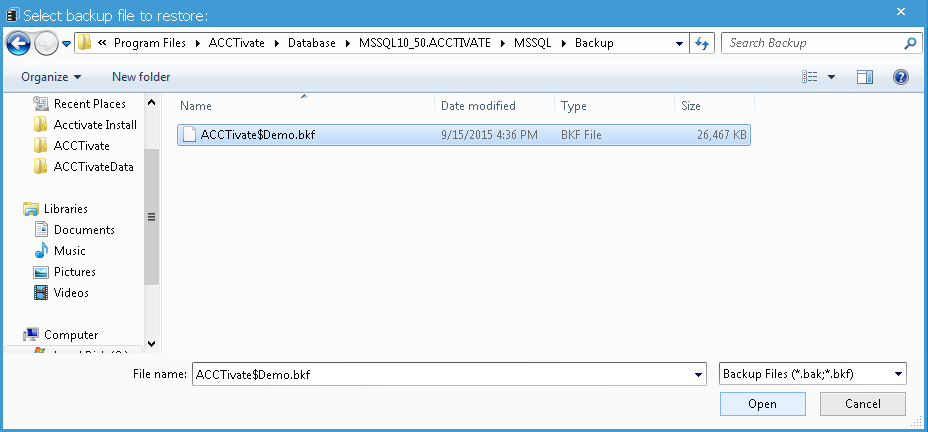 6. After choosing a backup file, click the View Sets button to see a list of backup sets
7. Select the backup set to restore, then click the 'Start Restore' button.
NOTE: SQL Server will only allow a backup to be restored from if the file is located in its backup directory. The restore will fail if you try to use a backup that is located elsewhere. Make sure you put the backup file you're restoring within the server "Backup Path" shown in the Backup/Restore window of Database Maintenance.