Crystal Reports Selection Prompts/Parameters window
When running reports in Acctivate, users can narrow down results by choosing different selection prompts or parameters. This article will walk through different ways to use filters when running reports in Acctivate.
First, select a report by clicking the Reports button on the menu bar.


Select a report category by clicking a folder in the Reports window. For this example, we'll use the "Open Orders" Report under Order Processing > Orders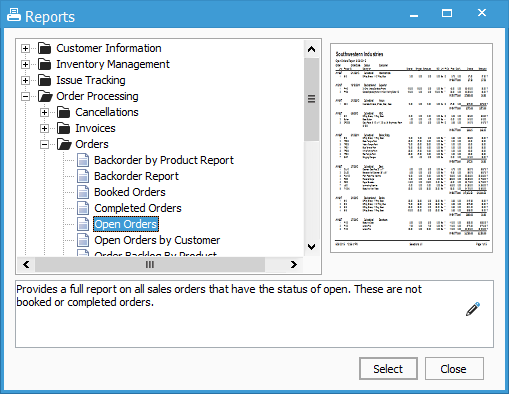 Open the report by double clicking the report name, or clicking the Select button. This will open the Selection Prompts/Parameters Window. Each Data Field on this window can be used to filter the data included on the report. Click the drop down menus in the Filter column to select a data filter.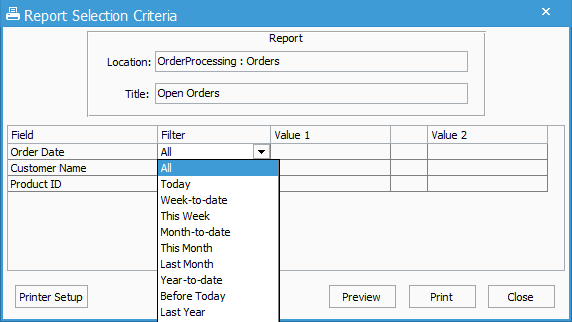 Each Field will have different data to filter. the Date field will let you filter by a group of preset date ranges, or you can choose a specific date, "Between" for a date range, Greater than, Less than, etc.
Text-based fields such as Customer Name and Product ID will have unique filter options. Users can enter a specific piece of data by selecting Equal To, or a range of values by using Between, In, Not In, or the operators (greater than, less than, etc.).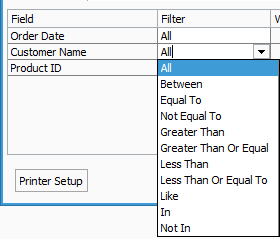 The most common text filters are "Equal To" and "Like".
The "Equal To" function is used to filter the report by a single, speific record in the database. In this example, users can use the Lookup button ([…]) to look up a customer, or type the customer name in to the Value 1 Field: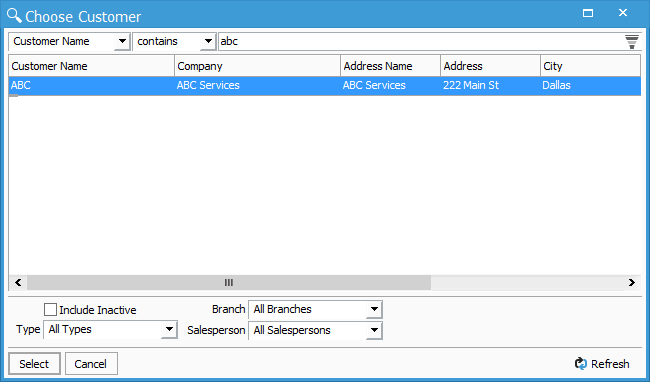 "Like" is used to select multiple customers with similar names. For example, the Acctivate Demo company contains two customers "Like" Western: "Western Industries" and "Western Enterprises":