If you want to send emails from Acctivate via Gmail's services, take these steps.
Acctivate supports outgoing email using Gmail. Sent messages, such as a customer invoice, will appear under your Sent Items label in Gmail.
Acctivate currently supports a single SMTP email account for sending all email from all users. The email account settings are located in the Company section of Configuration Management.
NOTE: Gmail requires a secure connection (SSL) to send email from another application.

Log in to Acctivate as a user with Admin permissions (e.g. SYS)
Open Configuration Management from File menu
Expand the Company folder on the left and click Company Info.
Click Edit on the Toolbar
Select the Simple Mail Transfer Protocol (SMTP) option (bottom-right)
Enter the following settings:
Outgoing mail server (SMTP) [smtp.gmail.com:465]
[X] Use SSL security
[X] My outgoing server requires authentication
User name [YourEmailAddress@gmail.com]
Password [yourGmailPassword]
7. Click Save on toolbar
8. All users should restart Acctivate before sending email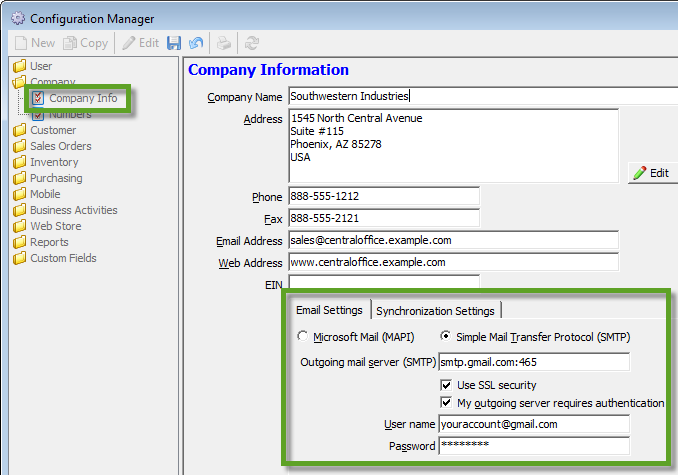 After your first attempt at sending an email, you might receive the following message:





To resolve this, login to your Gmail account and look for an email from Google. There is a link in the email that will allow you to enable applications to access to your Gmail account. Follow the link and turn on access.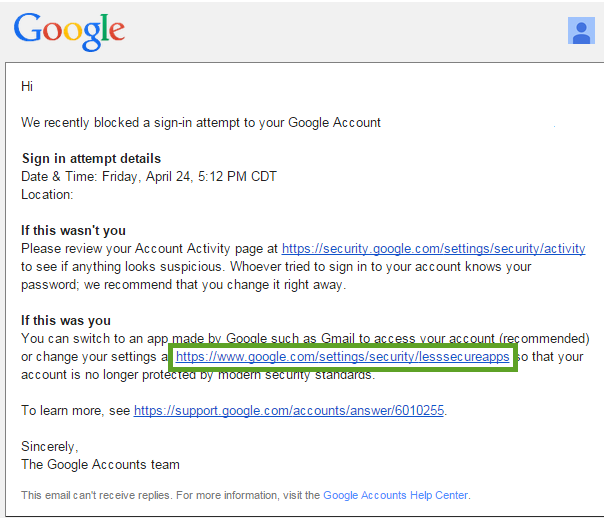 NOTE: Support for secure SMTP was added in Acctivate 7.3