Go to File > Configuration Manager > Sales Orders > Price Code to add, delete, or modify Price Codes to select from. To maintain the prices for these codes, go to Inventory > Price Code Maintenance.

Acctivate has flexible pricing tools to support business specific pricing strategies, which includes the abilities of price codes.

Price Codes allow you to maintain price groupings for products and orders. Each price code represents a unique category of products for buyers who each receive the same pricing. Price codes can also be set for a category of products as well. Each standard or special price stored for a customer must be associated with a Price Code. Price Codes can be set up on a category-specific or product-specific basis.

Examples of Price Codes for customers might include Dealer, List, Educational, Government, Special, Trade and High Volume.
Creating New Price Codes
Open the Configuration Manager by clicking on File > Configuration Manager.
Click on the Sales Orders folder and then the Price Code checkbox.
The list of current price codes will be displayed. To add a new price code, click the Editbutton, and enter a new price code and description.
Make certain to make the price code active by checking the active checkbox.
The new price code has been created and maybe have specific products or price categories applied to it in the Maintain Price Codes.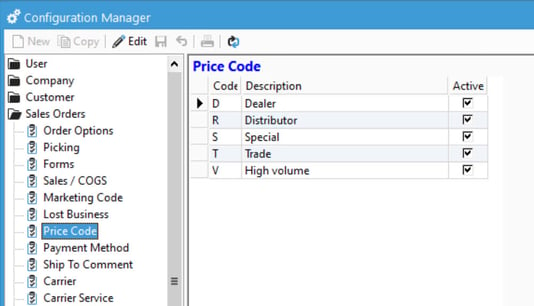 Maintaining Price Codes
Select Inventory > Price Code Maintenance to open the Maintain Price Codes window.

Click the drop-down menu inside the Price Code field to view the list of the price codes that have been created in Configuration Manager. Select the price code that you want to change from the list.

After a price code has been selected, the main section of the window will display the current categories covered under this price code.

To add a specific product to this price code, select the Products tab and click inside the bottom-most Product ID field. This will open the product lookup window and will allow you to select a product.

Acctivate offers multiple ways for the selling price to be determined for each product. The list below shows these methods, as displayed in the type drop-down list.Select one of these price methods, according to your needs and enter the corresponding information in the price / pct and unit fields.

After the product has been configured for this price code, it's ready to be sold in a sales order. Simply select the price code in the Pr Cd field on the sales order line after adding the product to the Detail tab of the order.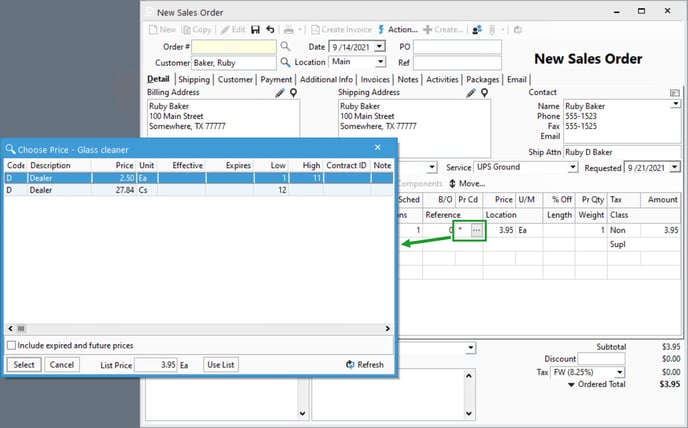 For more information regarding price codes, check out our
docs
page.